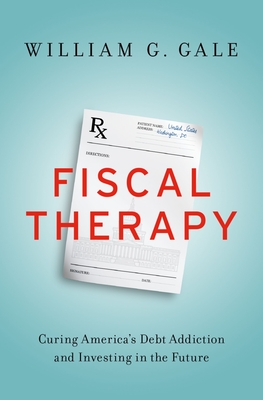 Fiscal Therapy (Hardcover)
Curing America's Debt Addiction and Investing in the Future
Oxford University Press, USA, 9780190645410, 352pp.
Publication Date: April 3, 2019
* Individual store prices may vary.
Description
Keeping the economy strong will require addressing two distinct but related problems. Steadily rising federal debt makes it harder to grow our economy, boost our living standards, respond to wars or recessions, address social needs, and maintain our role as a global leader. At the same time, we have let critical investments lag and left many people behind even as overall prosperity has grown. In Fiscal Therapy, William Gale, a leading authority on how federal tax and budget policy affects the economy, provides a trenchant discussion of the challenges posed by the imbalances between spending and revenue. America is facing a gradual decline as debt accumulates and delay raises the costs of action. But there is hope: fiscal responsibility aligns with both conservative and liberal goals and citizens of all stripes can support the notion of making life better for our children and grandchildren. Gale provides a plan to make the economy and nation stronger, one that controls entitlement spending but preserves and enhances their anti-poverty and social insurance roles, increases public investments on human and physical capital, and raises and reforms taxes to pay for government services in a fair and efficient way. What is needed, he argues, is to balance today's needs against tomorrow's obligations. We face significant fiscal challenges but, if we are wise enough to seize our opportunities, we can strengthen our economy, increase opportunity, reduce inequality, and build better lives for our children and grandchildren. We do not have to kill popular programs or starve government. Indeed, one main goal of fiscal reform is to maintain the vital functions that government provides. We need to act responsibly, pay for the government we want, and shape that government in ways that serve us best.

About the Author
William G. Gale is the Arjay and Frances Miller Chair in Federal Economic Policy in the Economic Studies Program at the Brookings Institution and co-director of the Tax Policy Center, a joint venture of Brookings and the Urban Institute. In 1991-92, he served as senior economist for the White House Council of Economic Advisers under President George H.W. Bush. He has written columns for the New York Times, Wall Street Journal, Washington Post, Financial Times, Los Angeles Times, and CNN and appeared on NBC, CBS, ABC, and NPR.