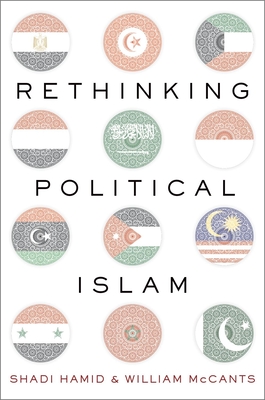 Rethinking Political Islam
Paperback

* Individual store prices may vary.
Other Editions of This Title:
Hardcover (8/14/2017)
Description
For years, scholars hypothesized about what Islamists might do if they ever came to power. Now, they have answers: confusing ones. In the Levant, ISIS established a government by brute force, implementing an extreme interpretation of Islamic law. On the opposite end of the spectrum, Tunisia's
Ennahda Party governed in coalition with two secular parties, ratified a liberal constitution, and voluntarily stepped down from power. In Egypt, the Muslim Brotherhood, the world's oldest Islamist movement, won power through free elections only to be ousted by a military coup. The strikingly
disparate results of Islamist movements have challenged conventional wisdom on political Islam, forcing experts and Islamists to rethink some of their most basic assumptions. In Rethinking Political Islam, two of the leading scholars on Islamism, Shadi Hamid and William McCants, have gathered a group of leading specialists in the field to explain how an array of Islamist movements across the Middle East and Asia have responded. Unlike ISIS and other jihadist groups that
garner the most media attention, these movements have largely opted for gradual change. Their choices, however, have been reshaped by the revolutionary politics of the region. The groups depicted in the volume capture the contradictions, successes, and failures of Islamism, providing a fascinating
window into a rapidly changing Middle East. It is the first book to systematically assess the evolution of mainstream Islamist groups since the Arab uprisings and the rise of ISIS, covering 12 country cases. In each instance, contributors address key questions, including: gradual versus
revolutionary approaches to change; the use of tactical or situational violence; attitudes toward the nation-state; and how ideology, religion, and political variables interact. For the first time in book form, readers will also hear directly from Islamist activists and leaders themselves, as they offer their own perspectives on the future of their movements. Islamists will have the opportunity to challenge the assumptions and arguments of some of the leading scholars of
Islamism, in the spirit of constructive dialogue. Rethinking Political Islam includes three of the most important country cases outside the Middle East-Indonesia, Malaysia, and Pakistan-allowing readers to consider a greater diversity of Islamist experiences. The book's contributors have immersed
themselves in the world of political Islam and conducted original research in the field, resulting in rich accounts of what animates Islamist behavior.

Oxford University Press, USA, 9780190649203, 400pp.
Publication Date: August 14, 2017
About the Author
Shadi Hamid is a senior fellow in the Project on U.S. Relations with the Islamic World at the Brookings Institution and author of Islamic Exceptionalism and Temptations of Power. William McCants is a senior fellow at the Brookings Institution, where he directs the Project on US Relations with the Islamic World. He is the author of The ISIS Apocalypse and Founding Gods, Inventing Nations.