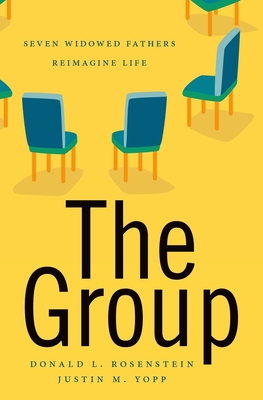 The Group
Seven Widowed Fathers Reimagine Life
Hardcover

* Individual store prices may vary.
Description
On a mid-October evening, a group of fathers gathered around a conference table and met each other for the first time. None of the men had ever thought of himself a support group kind of guy and each felt entirely out of place. In fact, nothing about their lives felt normal anymore. The Group: Seven Widowed Fathers Reimagine Life chronicles the challenges and triumphs of seven men whose wives died from cancer and were left to raise their young children entirely on their own. Brought together by tragedy, the fathers - Neill, Dan, Bruce, Karl, Joe, Steve, and Russ - forged an uncommon bond. Over time, group meetings evolved into a forum for reinvention and transformed the men in unexpected ways. Through the fathers' poignant interactions, The Group illustrates that while some wounds never fully heal, each of us has the potential to construct a new and meaningful future. Rosenstein and Yopp, co-leaders of the support group, weave together the fathers' stories with contemporary research on grief and adaptation. The Group traces a compelling journey of healing and personal discovery that no book has ever captured before. The men's touching efforts to care for their families, grieve for their wives, and reimagine their futures will inspire anyone who has suffered a major loss.

Oxford University Press, USA, 9780190649562, 192pp.
Publication Date: January 2, 2018
About the Author
Donald L. Rosenstein, MD, is Professor of Psychiatry and Medicine at the University of North Carolina at Chapel Hill where he is Director of the UNC Comprehensive Cancer Support Program and Vice-Chair of the Division of Hospital Psychiatry. He is currently the President of the American Psychosocial Oncology Society. Justin M. Yopp, PhD, is Assistant Professor of Psychiatry at the University of North Carolina at Chapel Hill where he directs pediatric psycho-oncology consultation services within the UNC Comprehensive Cancer Support Program Together, the authors are the creators of the Single Fathers Due to Cancer Program.