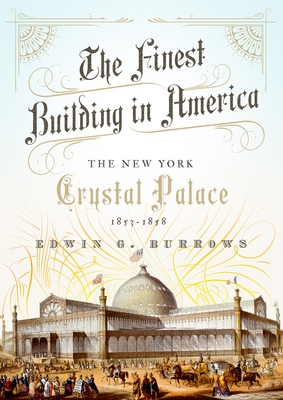 The Finest Building in America (Hardcover)
The New York Crystal Palace, 1853-1858
Oxford University Press, USA, 9780190681210, 264pp.
Publication Date: February 7, 2018
* Individual store prices may vary.
Description
When first opened to the public in 1853, New York's Crystal Palace created a sensation. Those who had seen London's Crystal Palace, the structure it was openly intended to emulate, argued that America's copy far surpassed it. Built in what is today Bryant Park, a four-acre site between 40th and 42nd Streets, the colossus of glass and steel indeed seemed poised to displace the British original in worldwide fame. Walt Whitman pronounced it "unsurpassed anywhere for beauty." Young Samuel Clemens--not yet Mark Twain--called it a "perfect fairy palace." Many perceived it as putting America, still in the thrall of European culture, on the map. "To us on this side of the water," wrote newspaperman Horace Greely, who had also visited London's Crystal Palace, "it was original." Pulitzer Prize-winning historian Edwin G. Burrows offers the tale of what was proclaimed the country's "finest building." Centerpiece of the 1853 World's Fair, the New York Crystal Palace, like its London counterpart, was intended to display the country's latest technological achievements--as well as a few dubious cultural artifacts. But its primary function was simply to be seen and admired by the crowds that thronged to it; its very existence caused patriotic breasts to swell. And then suddenly it was gone. On October 5, 1858, merely five years after its construction, the Crystal Palace caught fire. Despite frantic attempts to save it, the magnificent dome was engulfed and within thirty minutes the entire structure reduced to a heap of smoldering debris, through which for days afterward bereft New Yorkers picked for mementos. With sumptuous images and lively storytelling The Finest Building in America brings back to life an extraordinary monument, one that briefly but wholeheartedly captured the imagination of a country, giving form to its dreams and ambitions, and then vanishing from view.

About the Author
Edwin G. Burrows is co-author of Gotham: A History of New York City to 1898, which won the Pulitzer Prize for History, and author of Forgotten Patriots: The Untold Story of American Prisoners during the Revolutionary War, which was named Best Book of the Year on the American Revolution by Fraunces Tavern Museum. Distinguished Professor of History Emeritus at Brooklyn College, he has been a Distinguished Lecturer for the Organization of American Historians and served on the boards of the Dyckman Farmhouse Museum in Manhattan, New York History, and the Society of American Historians, and is a past president of the New York Academy of History.