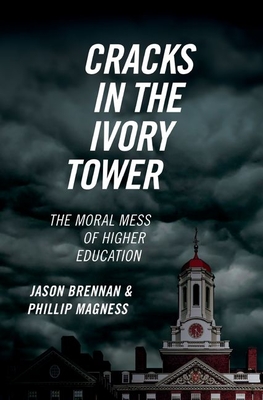 Cracks in the Ivory Tower
The Moral Mess of Higher Education
Hardcover

* Individual store prices may vary.
Other Editions of This Title:
Paperback (6/25/2021)
Description
Academics extol high-minded ideals, such as serving the common good and promoting social justice. Universities aim to be centers of learning that find the best and brightest students, treat them fairly, and equip them with the knowledge they need to lead better lives. But as Jason Brennan and Phillip Magness show in Cracks in the Ivory Tower, American universities fall far short of this ideal. At almost every level, they find that students, professors, and administrators are guided by self-interest rather than ethical concerns. College bureaucratic structures also often incentivize and reward bad behavior, while disincentivizing and even punishing good behavior. Most students, faculty, and administrators are out to serve themselves and pass their costs onto others. The problems are deep and pervasive: most academic marketing and advertising is semi-fraudulent. To justify their own pay raises and higher budgets, administrators hire expensive and unnecessary staff. Faculty exploit students for tuition dollars through gen-ed requirements. Students hardly learn anything and cheating is pervasive. At every level, academics disguise their pursuit of self-interest with high-faluting moral language. Marshaling an array of data, Brennan and Magness expose many of the ethical failings of academia and in turn reshape our understanding of how such high power institutions run their business. Everyone knows academia is dysfunctional. Brennan and Magness show the problems are worse than anyone realized. Academics have only themselves to blame.

Oxford University Press, USA, 9780190846282, 336pp.
Publication Date: May 1, 2019
About the Author
Jason Brennan is the Flanagan Family Professor at Georgetown University. He is the author of ten books, including When All Else Fails and In Defense of Openness. Phillip W. Magness is a Senior Research Fellow at the American Institute for Economic Research in Great Barrington, Massachusetts. He is the author of two books and over a dozen scholarly articles on a diverse array of topics, including the economics of slavery, the history of international trade, federal tax policy, economic inequality, and the economic dimensions of higher education.