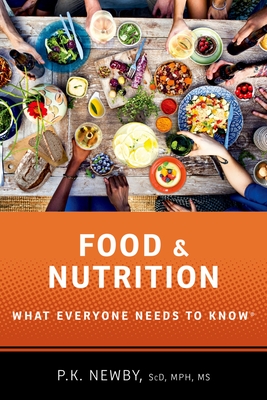 Food and Nutrition (Paperback)
What Everyone Needs to Know(r)
Oxford University Press, USA, 9780190846633, 320pp.
Publication Date: September 5, 2018
Other Editions of This Title:
MP3 CD (9/3/2018)
Compact Disc (9/3/2018)
Hardcover (9/5/2018)
* Individual store prices may vary.
Description
It seems that practically every day there is news about some new super-nutrient, super diet, or super food that promises to help us to be healthier, smarter, happier, fight disease, lose weight, or live longer. Some of this information propels temporary food or diet fads, some of it is subsequently discredited, and some becomes staid wisdom of healthy eating. Food and Nutrition: What Everyone Needs to Know(R) sorts through this information and looks at food systems globally and historically, providing an overview of the relationship between humans, the environment, and food.
About the Author
P.K. Newby, ScD, MPH, MS, is a nutrition scientist and gastronome whose multidisciplinary training spans the biological, social, and public health sciences, creating a unique and refreshing perspective when thinking about today's food problems and their potential solutions. She is also an Adjunct Associate Professor at Harvard, where she is an award-winning educator. Her mission is to help people live their healthiest, most delicious lives.