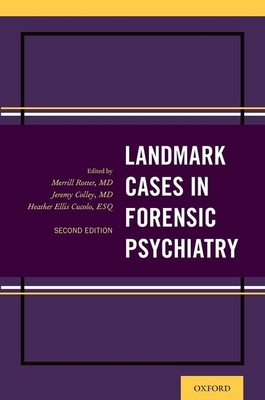 Landmark Cases in Forensic Psychiatry (Landmark Papers in)
Paperback

* Individual store prices may vary.
Description
This book brings together concise, comprehensive summaries of the most important "landmark" legal decisions relating to mental health practice in the United States. These decisions, along with their underlying reasonings, make up a critical portion of the national certification examination for forensic psychiatry offered by the American Board of Psychiatry and Neurology (ABPN). This book provides a combination of summaries of the relevant legal content paired with board-style test questions designed to help consolidate knowledge and prepare for certification. Cases with similar themes are grouped together with an eye toward helping the reader understand the evolution of legal and clinical thinking on a particular topic.
Oxford University Press, USA, 9780190914424, 312pp.
Publication Date: October 8, 2019
About the Author
Merrill Rotter is a forensic psychiatrist with the NYS Office of Mental Health and on faculty at Albert Einstein College of Medicine where he is Associate Clinical Professor of Psychiatry and Director of the Division of Law and Psychiatry for the Department of Psychiatry. In his OMH role, Dr. Rotter is Senior Forensic Consultant to the Commissioner of NYS OMH and Director of the Division of Forensic Services at Bronx Psychiatric Center. Jeremy Colley co-teaches the seminar in Landmark Cases in Psychiatry and Law, alongside Dr. Rotter, to fellows in forensic psychiatry from Albert Einstein, Columbia, NYU and Rutgers Schools of Medicine. He has served as a Chief Psychiatrist with the California Department of Corrections and Rehabilitation, and conducts research regarding police encounters with mentally ill citizens in the community. Heather Cucolo is an adjunct professor at New York Law School (NYLS) and the facilitator of the joint JD/MA program with John Jay College of Criminal Justice. In addition to those roles, Professor Cucolo is co-owner of the Mental Disability Law and Policy Associates educational company and on the Board of Trustees as Director of the International Society of Therapeutic Jurisprudence.