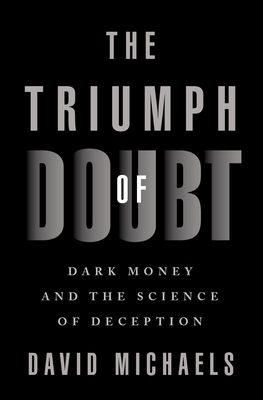 The Triumph of Doubt
Dark Money and the Science of Deception
Hardcover

* Individual store prices may vary.
Other Editions of This Title:
Digital Audiobook (5/4/2020)
Description
Well-heeled American corporations have long had a financial stake in undermining scientific consensus and manufacturing uncertainty. In The Triumph of Doubt, former Obama and Clinton official David Michaels details how corrupt science becomes public policy -- and where it's happening today. Opioids. Concussions. Obesity. Climate Change. America is a country of everyday crises -- big, long-spanning problems that persist despite their toll on the country's health. And for every case of government inaction on one of these issues, there is a set of familiar, doubtful refrains: The science is unclear. The data are inconclusive.
Regulation is unjustified. It's a slippery slope. Is it? The Triumph of Doubt traces the ascendance of science-for-hire in American life and government, from its origins in the tobacco industry in the 1950s to its current manifestations across government, public policy, and even professional sports. Amid fraught conversations of alternative facts and
truth decay, The Triumph of Doubt wields its unprecedented access to shine a light on the machinations and scope of manipulated science in American society. It is an urgent, revelatory work, one that promises to reorient conversations around science and the public good for the foreseeable future.

Oxford University Press, USA, 9780190922665, 344pp.
Publication Date: February 3, 2020
About the Author
David Michaels, PhD, MPH, is Professor of Environmental and Occupational Health at the George Washington University Milken Institute School of Public Health. He served as Assistant Secretary of Labor for the Occupational Safety and Health Administration (OSHA) under President Barack Obama from 2009to 2017, the longest serving administrator in the agency's history. Prior to that, he served under President Bill Clinton as Assistant Secretary of Energy for Environment, Safety, and Health, charged with protecting the workers, community residents and environment in and around the nation's nuclearweapons facilities.