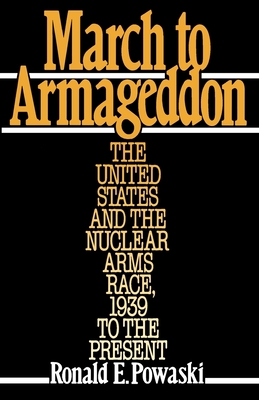 March to Armageddon (Paperback)
The United States and the Nuclear Arms Race, 1939 to the Present
Oxford University Press, USA, 9780195044119, 318pp.
Publication Date: April 19, 1989
* Individual store prices may vary.
Description
Ronald E. Powaski offers the first complete, accessible history of the events, forces, and factors that have brought the world to the brink of a nuclear holocaust. He traces the evolution of the nuclear arms race from FDR's decision to develop an atomic bomb to Reagan's decision to continue its expansion in the 1980's.
Focusing on the forces that have propelled the arms race and the reasons behind the repeated failures to check the proliferation of nuclear weapons, Powaski discusses such topics as the Manhattan Project, the decision to drop the bomb on Hiroshima, the debate over whether to share atomic information, the effect of nuclear weapons on U.S. military and foreign policy, and the role of these weapons in arms control negotiations in the last five presidential administrations.

About the Author
Ronald E. Powaski teaches history at John Carroll University and Euclid Senior High School in Euclid, Ohio.