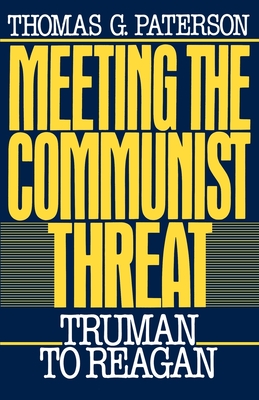 Meeting the Communist Threat (Paperback)
Truman to Reagan (Oxford Paperbacks)
Oxford University Press, USA, 9780195045321, 336pp.
Publication Date: December 21, 1989
* Individual store prices may vary.
Description
This provocative volume, written by the distinguished diplomatic historian Thomas G. Paterson, explores why and how Americans have perceived and exaggerated the Communist threat in the last half century. Basing his spirited analysis on research in private papers, government archives, oral histories, contemporary writings, and scholarly works, Paterson explains the origins and evolution of United States global intervention. Deftly exploring the ideas and programs of Truman, Kennan, Eisenhower, Dulles, Kennedy, Nixon, Kissinger, and Reagan, as well as the views of dissenters from the prevailing Cold War mentality, Paterson reveals the tenacity of American thinking about threats from abroad. He recaptures the tumult of the last several decades by treating a wide range of topics, including post-war turmoil in Western Europe, Mao's rise in China, the Suez Canal, the Cuban missile crisis, the Vietnam War, CIA covert actions, and Central America.
Paterson's vivid account of America's Cold War policies argues that, while Americans did not invent the Communist threat, they have certainly exaggerated it, nurturing a trenchant anti-communism that has had a devastating effect on international relations and American institutions.

About the Author
Thomas G. Paterson is Professor of History at the University of Connecticut, Storrs. He is a past President of the Society for Historians of American Foreign Relations, author of several books, including Soviet-American Confrontation and On Every Front, and editor of Kennedy's Quest for Victory.