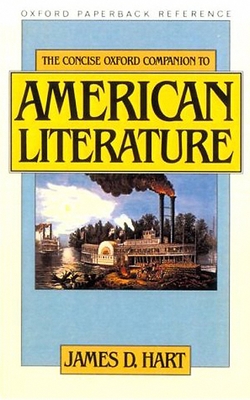 The Concise Oxford Companion to American Literature (Oxford Paperback Reference) (Paperback)
Oxford University Press, USA, 9780195047714, 510pp.
Publication Date: November 19, 1988
* Individual store prices may vary.
Description
For nearly half a century, James D. Hart's Oxford Companion to American Literature has offered a matchless guided tour through American literary culture, both past and present. Hart now presents the first abridgement of the Companion in a paperback edition, making the entries of the greatest general interest from the original volume available to a much wider audience.
Compact and affordable, The Concise Oxford Companion to American Literature contains over 2,000 entries, including brief biographies of important authors, plot summaries of individual works, descriptions of important literary movements, and a wealth of information on other aspects of American literary life and history from the Colonial period to the modern era. It devotes approximately 325 of the biographical entries to contemporary writers, introducing such newcomers to the Companion as William Kennedy, Grace Paley, and Raymond Carver. The more specialized and esoteric entries from the original have been omitted.
Like its predecessor, The Concise Oxford Companion contains a thorough system of cross references to guide the reader to related information on a given topic, as well as a chronological Index outlining significant events in the literary and social history of the United States.

About the Author
James D. Hart, Professor of American Literature at the University of California, Berkeley, is Director of the Bancroft Library and author of The Popular Book and A Companion to California.