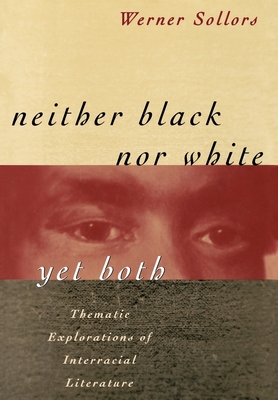 Neither Black Nor White Yet Both (Hardcover)
Thematic Explorations of Interracial Literature
Oxford University Press, USA, 9780195052824, 596pp.
Publication Date: April 24, 1997
Other Editions of This Title:
Paperback (10/15/1999)
* Individual store prices may vary.
Description
Why can a "white" woman give birth to a "black" baby, while a "black" woman can never give birth to a "white" baby in the United States? What makes racial "passing" so different from social mobility? Why are interracial and incestuous relations often confused or conflated in literature, making "miscegenation" appear as if it were incest? Werner Sollors examines these questions and others in Neither Black Nor White Yet Both, a new and fully researched investigation of literary works that, in the past, have been read more for a black-white contrast of "either-or" than for an interracial realm of "neither, nor, both, and in-between." From the etymological origins of the term "race" to the cultural sources of the "Tragic Mulatto," and from the calculus of color to the retellings of an original plot, Sollors examines the theming of what we know about race. The book analyzes recurrent motifs in scientific and legal works as well as in fiction, drama, and poetry, considering such authors as Heliodorus, John Stedman, Buffon, Thomas Jefferson, Heinrich von Kleist, Victor Hugo, Aleksandr Sergeevic Puskin, Hans Christian Andersen, Lydia Marie Child, Harriet Beecher Stowe, William Wells Brown, Mark Twain, Charles Chesnutt, Kate Chopin, Cirilo Villaverde, Aluisio Azevedo, Pauline Hopkins, Langston Hughes, Jessie Fauset, William Faulkner, and Boris Vian. The discussions are accompanied by many illustrations, inviting comparisons between literature and the visual arts.
About the Author
Werner Sollors is the Henry B. and Anne M. Cabot Professor of English Literature and of Afro American Studies, and Director of the History of American Civilization Program, at Harvard University. Previous works include Amiri Baraka/LeRoi Jones: The Quest for a "Populist Modernism" and Beyond Ethnicity: Consent and Descent in American Culture.