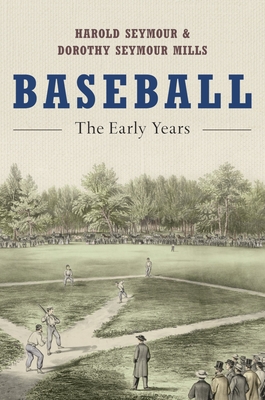 Baseball
The Early Years
Paperback

* Individual store prices may vary.
Other Editions of This Title:
Paperback (7/13/1989)
Hardcover (12/31/1960)
Description
Now available in paperback, Harold Seymour and Dorothy Seymour Mills' Baseball: The Early Years recounts the true story of how baseball came into being and how it developed into a highly organized business and social institution. The Early Years, traces the growth of baseball from the time of the first recorded ball game at Valley Forge during the revolution until the formation of the two present-day major leagues in 1903. By investigating previously unknown sources, the book uncovers the real story of how baseball evolved from a gentleman's amateur sport of well-bred play followed by well-laden banquet tables into a professional sport where big leagues operate under their own laws. Offering countless anecdotes and a wealth of new information, the authors explode many cherished myths, including the one which claims that Abner Doubleday invented baseball in 1839. They describe the influence of baseball on American business, manners, morals, social institutions, and even show business, as well as depicting the types of men who became the first professional ball players, club owners, and managers, including Spalding, McGraw, Comiskey, and Connie Mack. Note: On August 2, 2010, Oxford University Press made public that it would credit Dorothy Seymour Mills as co-author of the three baseball histories previously authored solely by her late husband, Harold Seymour. The Seymours collaborated on Baseball: The Early Years (1960), Baseball: The Golden Age (1971) and Baseball: The People's Game (1991).

Oxford University Press, USA, 9780195059120, 392pp.
Publication Date: July 13, 1989
About the Author
Harold Seymour, Ph.D., baseball's leading historian, was a college history professor for more than fifteen years. Moreover, he knows baseball firsthand through experience as batboy for the Brooklyn Dodgers, high school PSAL and college player, organizer and field manager of amateur and semipro teams, and major-league bird dog. Dorothy Seymour Mills is the author or co-author of 25 books, including historical novels and children's books. She is a member SABR, the North American Society for Sports History, and the Association for Women in Sports Media.