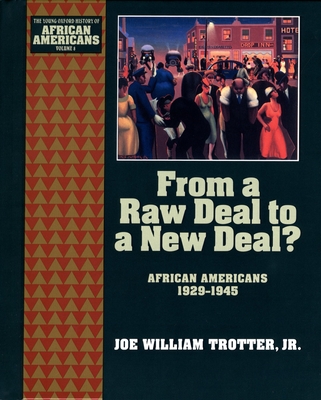 From a Raw Deal to a New Deal
African Americans 1929-1945 (Young Oxford History of African Americans #8)
Hardcover

* Individual store prices may vary.
Description
Bank closings, soup kitchens, bread lines, unemployed workers begging for work--these images defined the 1930s and '40s in America. For African Americans the era was a study in contrasts: black workers had the highest unemployment rate at a time when black leaders held important positions in Franklin Roosevelt's administration; New Deal legislation threw hundreds of thousands of black sharecroppers off the land while the same federal government provided unprecedented opportunities for black writers and artists; dramatic episodes of racist violence against African Americans occurred just as Communists and other radicals launched a nationwide campaign against racial injustice.
When the United States entered World War II in 1941, the horrors of war provided an opportunity for blacks to demand equal treatment. As the African American servicemen, such as the all-black 99th fighter squadron (also known as the Tuskegee Airmen), fought for democracy overseas, black people at home were treated like second-class citizens. The war also created employment opportunities for many black working people. But few managed to get industrial jobs or into training programs, and those who did were likely to experience violent reprisals from disgruntled white workers. While U.S. troops invaded Normandy and bombed Okinawa, African Americans fought their own war at home.
From a Raw Deal to a New Deal examines the impact of the depression and the war on black communities. The response of workers, farmers, activists, and the federal government, the inspiring cultural and intellectual achievements of such leading African Americans as Marcus Garvey, W. E. B. Du Bois, Langston Hughes, and Marian Anderson, and the role that war-time industrialization and recovery played in black protest movements paved the way for the modern civil rights movement. This is fascinating and relevant history for today's young people.

Oxford University Press, USA, 9780195087710, 128pp.
Publication Date: April 25, 1996
About the Author
Joe William Trotter, Jr., is professor of history at Carnegie-Mellon University. Professor Trotter is the author of Coal, Class, and Color: Blacks in Southern West Virginia, 1915-1932, Black Milwaukee: The Making of an Industrial Proletariat, 1915-1945, and editor of The Great Migration inHistorical Perspective: New Dimensions of Race, Class, and Gender.
or
Not Currently Available for Direct Purchase