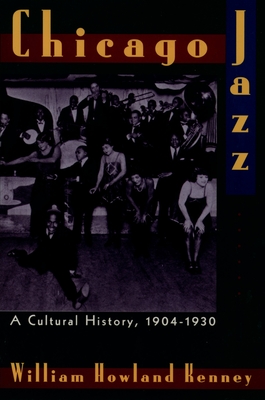 Chicago Jazz (Paperback)
A Cultural History 1904-1930
Oxford University Press, USA, 9780195092608, 256pp.
Publication Date: October 27, 1994
* Individual store prices may vary.
Description
The setting is the Royal Gardens Cafe. It's dark, smoky. The smell of gin permeates the room. People are leaning over the balcony, their drinks spilling on the customers below. On stage, King Oliver and Louis Armstrong roll on and on, piling up choruses, the rhythm section building the beat until tables, chairs, walls, people, move with the rhythm. The time is the 1920s. The place is South Side Chicago, a town of dance halls and cabarets, Prohibition and segregation, a town where jazz would flourish into the musical statement of an era.
In Chicago Jazz, William Howland Kenney offers a wide-ranging look at jazz in the Windy City, revealing how Chicago became the major center of jazz in the 1920s, one of the most vital periods in the history of the music. He describes how the migration of blacks from the South to Chicago during and after World War I set the stage for the development of jazz in Chicago; and how the nightclubs and cabarets catering to both black and white customers provided the social setting for jazz performances. Kenney discusses the arrival of King Oliver and other greats in Chicago in the late teens and the early 1920s, especially Louis Armstrong, who would become the most influential jazz player of the period. And he travels beyond South Side Chicago to look at the evolution of white jazz, focusing on the influence of the South Side school on such young white players as Mezz Mezzrow (who adopted the mannerisms of black show business performers, an urbanized southern black accent, and black slang); and Max Kaminsky, deeply influenced by Armstrong's "electrifying tone, his superb technique, his power and ease, his hotness and intensity, his complete mastery of the horn." The personal recollections of many others--including Milt Hinton, Wild Bill Davison, Bud Freeman, and Jimmy McPartland--bring alive this exciting period in jazz history.
Here is a new interpretation of Chicago jazz that reveals the role of race, culture, and politics in the development of this daring musical style. From black-and-tan cabarets and the Savoy Ballroom, to the Friars Inn and Austin High, Chicago Jazz brings to life the hustle and bustle of the sounds and styles of musical entertainment in the famous toddlin' town.

About the Author
William Howland Kenney is a jazz clarinetist and Associate Professor of History and American Studies at Kent State University. He is the coeditor with Scott Deveaux of The Music of James Scott.