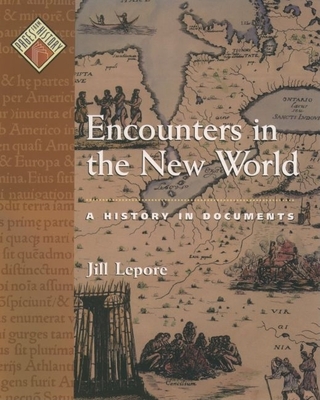 Pages from History (Hardcover)
Oxford University Press, USA, 9780195105131, 176pp.
Publication Date: February 17, 2000
* Individual store prices may vary.
or
Not Currently Available for Direct Purchase
Description
From Columbus's voyage in 1492 to the publication of the autobiography of Olaudah Equiano, a former slave, in 1789, Jill Lepore, winner of the distinguished Bancroft Prize for history, brings to life in exciting, first-person detail some of the earliest events in American history in Encounters in the New World.
Providing fascinating commentary along the way, Lepore seamlessly links together primary sources that illustrate the powerful clash of cultures in the Americas. Through emotional eyewitness accounts -- memoirs, petitions, diaries, captivity narratives, private correspondence -- formal documents, official reports, and journalistic reportage, dramatic stories of the New World are revealed, including:
* A Jesuit priest's chronicle of life among his Iroquois captors
* Aztec records of forbidding omens
* John Smith's account of cannibalism among the British residents of Jamestown
* Memoirs by members of Cortes's expedition
* Reminiscences of an escaped slave
A special 16-page color cartographic section, including maps from both Europe and North America, provides a fascinating look at how the maps' creators saw themselves and the world around them.

About the Author
Jill Lepore is an Associate Professor of History at Boston University, where she also serves as Director of Undergraduate Studies for American and New England Studies. Her previous works include A is for American: Letters and Other Characters in the Newly United States (Knopf, 2002) and The Name of War: King Philip's War and American Identity (Knopf, 1998), Winner of the Bancroft Prize, Ralph Waldo Emerson Award, Berkshire Prize, and the New England Historical Association Prize, and a selection of the History Book Club.
Advertisement