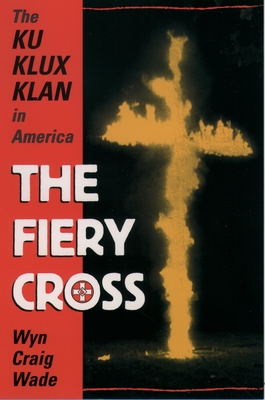 The Fiery Cross
The Ku Klux Klan in America
Paperback

* Individual store prices may vary.
Description
Few groups in our history are as fascinating and mysterious as the Ku Klux Klan. Its story is one of violence, political manipulation and intrigue, absurdity, and mesmerizing organizational and propaganda skills. Through shrewd political tactics and powerful leadership, the Klan has often been a potent force, as it encouraged Americans to protect themselves from those they find "unacceptable." Its actions have made it one of the most feared groups in America. In The Fiery Cross, Wyn Craig Wade traces the Klan from its beginnings after the Civil War as a social club in Pulaski, Tennessee, to the present. Wade provides us with the history of the group, which has gone through a number of declines and renaissances over the last hundred years. We follow the Klan's resurgence in 1915 after D.W. Griffith's epic film The Birth of a Nation depicted Klan members as heroic saviors of the old Southern society, to the swearing in of President Warren G. Harding as a Klansman in the Green Room, and from the Klan's championing of white supremacy as a response to the Civil Rights movement in the 60s, to their present day activities, aligning themselves with a variety of neo-fascist and right-wing groups in the American West. Finally, Wade provides us with an assessment of the Klan's future. The Fiery Cross provides an exhaustive analysis and perspective on this dark shadow of American society. It is long overdue.

Oxford University Press, USA, 9780195123579, 528pp.
Publication Date: November 19, 1998
About the Author
Wyn Craig Wade is a psychologist and historian. He is the best-selling author of The Titanic: End of a Dream. He is currently a full-time writer, as well as an instructor of psychology at Ivy Tech State College in Indiana.