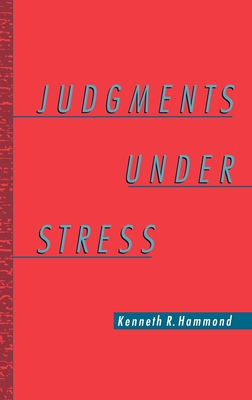 Judgments Under Stress (Hardcover)
Oxford University Press, USA, 9780195131437, 256pp.
Publication Date: September 15, 2005
* Individual store prices may vary.
Description
Judgments Under Stress presents a new and exciting approach to understanding the effects of stressful conditions on judgment and decision making -- a topic so important it was addressed in a Congressional Hearing in 1988. Consisting mainly of two parts, the book synthesizes a vast body of cognitive psychology research into an innovative theoretical framework. Part I provides the reader with background in regards to judgment under stress while Part II discusses a new approach to studying it. Author Kenneth Hammond extends his examination from the effects of stress on professional judgments to its effects on moral and political judgments, working out a conceptual framework wholly within a psychological context. The book also includes discussions on sleep deprivation, fatigue, noise, heat, shock, and time pressure. In addition to laboratory experiments, Hammond looks at real life historical events such as Iran Flight 655 and the Cuban Missile Crisis. Judgments Under Stress provides a shrewd analysis of the effects of stress on human rationale, making it ideal for professional psychologists as well as for those interested in political science and social policy.

About the Author
Kenneth R. Hammond is Professor Emeritus of Psychology and former Director of the Center for Research on Judgment and Policy at the University of Colorado, Boulder.