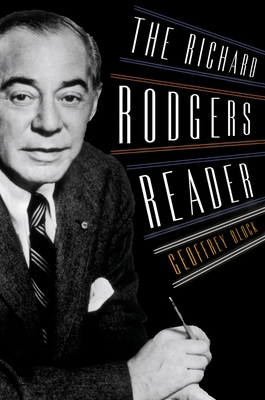 The Richard Rodgers Reader (Readers on American Musicians)
Hardcover

* Individual store prices may vary.
Other Editions of This Title:
Paperback (8/1/2006)
Description
Richard Rodgers was one of America's most prolific and best-loved composers. A world without My Funny Valentine, The Lady is a Tramp, Blue Moon, and Bewitched, to name just a few of the songs he wrote with Lorenz Hart, is scarcely imaginable, and the musicals he wrote with his second collaborator, Oscar Hammerstein--Oklahoma , Carousel, South Pacific, The King and I, and The Sound of Music--continue to enchant and entertain audiences. Arranged in four sections, Rodgers and Hart (1929-1943), Rodgers and Hammerstein (1943-1960), Rodgers After Hammerstein (1960-1979), and The Composer Speaks (1939-1971), The Richard Rodgers Reader offers a cornucopia of informative, perceptive, and stylish biographical and critical overviews. It also contains a selection of Rodgers's letters to his wife Dorothy in the 1920s, the 1938 Time magazine cover story and New Yorker profiles in 1938 and 1961, and essays and reviews by such noted critics as Brooks Atkinson, Eric Bentley, Leonard Bernstein, Lehman Engel, Walter Kerr, Ken Mandelbaum, Ethan Mordden, George Jean Nathan, and Alec Wilder. The volume features personal accounts by Richard Adler, Agnes de Mille, Joshua Logan, Mary Martin, and Diahann Carroll. The collection concludes with complete selections from more than thirty years of Rodgers's own writings on topics ranging from the creative process, the state of the Broadway theater, even Rodgers's bout with cancer, and a generous sample from the candid and previously unpublished Columbia University interviews. For anyone wishing to explore more fully the life and work of a composer whose songs and musicals have assumed a permanent--and prominent--place in American popular culture, The Richard Rodgers Reader will offer endless delights.

Oxford University Press, USA, 9780195139549, 368pp.
Publication Date: June 6, 2002
About the Author
Geoffrey Block is Professor of Music History at the University of Puget Sound. The author of Enchanted Evenings (OUP 1997) and three books on Charles Ives, he is now completing a book on Richard Rodgers's Broadway career.