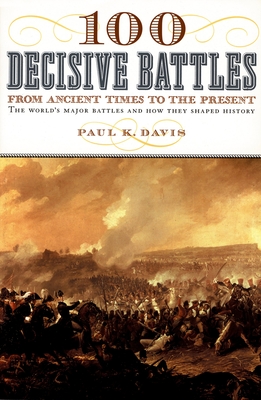 100 Decisive Battles
From Ancient Times to the Present
Paperback

* Individual store prices may vary.
Other Editions of This Title:
Hardcover (1/1/2000)
Description
From the ancient Egyptian battle at Megiddo in 1469 BC to the recent military actions in Iraq, great battles have had an enormous impact on the shaping of history. Now, in this fully illustrated book, one hundred of the world's most important military confrontations are described in detail. 100 Decisive Battles gives us the facts about the battle and also explains where it fits in to the scope of world history. In each entry we are given the name and date of the battle, the commanders, the size of the opposing forces, and casualties. An account of the battle plan and the military action are strategically discussed, and each description closes with a valuable consideration of how history was affected by the outcome of the conflict. Among the battles presented are the Battle of Thymbra (546 BC), the Battle of Chalons (451 AD), the Battle of Cajamarca (1532), the Battle of Dien Bien Phu (1954), and the Tet Offensive (1968). Accompanying maps and sidebars help further orient us with each military action. Global in scope, with excellent coverage of American, Central American, European, Asian, and Middle Eastern battles, and with its stirring accounts of familiar battles and many lesser known military conflicts, 100 Decisive Battles is essential reading for military buffs and anyone interested in how the modern world came to be.

Oxford University Press, USA, 9780195143669, 480pp.
Publication Date: June 14, 2001
About the Author
Paul K. Davis is Lecturer at the University of Texas and at St. Mary's University in San Antonio.