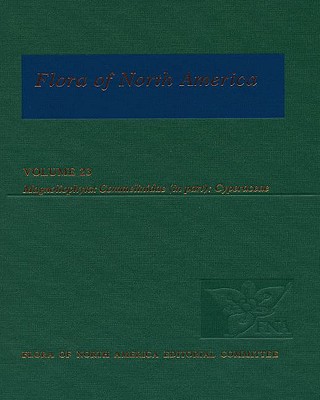 Flora of North America
North of Mexico; Volume 23: Magnoliophyta: Commelinidae (in Part): Cyperaceae
Hardcover

* Individual store prices may vary.
Other Editions of This Title:
Hardcover (4/19/2010)
Hardcover (6/1/2007)
Hardcover (5/11/2006)
Hardcover (5/11/2006)
Hardcover (5/11/2006)
Hardcover (7/17/2003)
Hardcover (4/8/2004)
Hardcover (9/29/2009)
Hardcover (3/5/2007)
Description
The first complete treatment of the sedges of North America in more than half a century, this volume tackles the notoriously difficult to identify Cyperaceae with illustrations of all species in the group, emphasizing its great ecological importance. With extensive information on the more than 460 species of Carex, this third volume out of five covering the monocots of North America also includes 96 species of Cyperus, 68 species of Rhynchospora, 66 species of Eleocharis, and the monotypic, North American endemic Cymophyllus.
The treatments--written and reviewed by experts--all contain identification keys, summaries of habitats and geographic ranges, distribution maps, pertinent synonymies, descriptions, chromosome numbers, and phenological information. Over 100 illustrations and 945 individual species distribution maps provide ecologists, applied biologists, and other readers with an authoritative account of the Cyperaceae.
Oxford University Press, USA, 9780195152074, 640pp.
Publication Date: February 20, 2003
or
Not Currently Available for Direct Purchase