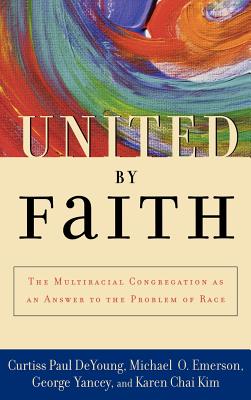 United by Faith
The Multiracial Congregation as an Answer to the Problem of Race
Hardcover

* Individual store prices may vary.
Other Editions of This Title:
Paperback (9/23/2004)
Description
In the last four decades, desegregation has revolutionized almost every aspect of life in the United States: schools, businesses, government offices, even entertainment. But there is one area that remains largely untouched, and that is the church. Now comes a major new call for multiracial congregations in every possible setting--a call that is surprisingly controversial, even in the twenty-first century.
In United By Faith, a multiracial team of sociologists and a minister of the Church of God argue that multiracial Christian congregations offer a key to opening the still-locked door between the races in the United States. They note, however, that a belief persists--even in African-American and Latino churches--that racial segregation is an acceptable, even useful practice. The authors examine this question from biblical, historical, and theological perspectives to make their case. They explore the long history of interracialism in the church, with specific examples of multiracial congregations in the United States. They cite examples ranging from the abolitionist movement to an astonishing 1897 camp meeting in Alabama that brought together hundreds of whites and blacks literally into the same tent. Here, too, is a critical account of the theological arguments in favor of racial separation, as voiced in the African-American, Latino, Asian-American, Native-American, and white
contexts. The authors respond in detail, closing with a foundation for a theology suited to sustaining multiracial congregations over time.
Faith can be the basis for healing, but too often Christian faith has been a field for injury and division. In this important new book, readers will glimpse a way forward, a path toward once again making the church the basis for racial reconciliation in our still-splintered nation.

Oxford University Press, USA, 9780195152159, 240pp.
Publication Date: June 5, 2003
About the Author
Curtiss Paul DeYoung is an Associate Professor of Reconciliation Studies at Bethel College, St. Paul, MN, and an ordained minister in the Church of God (Anderson, IN). Michael O. Emerson is an Associate Professor of Sociology at Rice University, and is the co-author of Divided by Faith: Evangelical Religion and the Problem of Race in America. George Yancey is an Associate Professor of Sociology at the University of North Texas. Karen Chai Kim is an Assistant Professor of Sociology at the University of Houston.