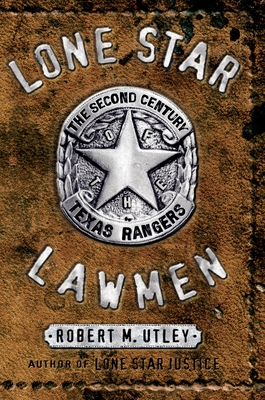 Lone Star Lawmen: The Second Century of the Texas Rangers (Hardcover)
The Second Century of the Texas Rangers
Oxford University Press, USA, 9780195154443, 400pp.
Publication Date: March 1, 2007
Description
Hailed as "a rip-snortin', six-guns-blazin' saga of good guys and bad guys who were sometimes one and the same," Robert M. Utley's Lone Star Justice captured the colorful first century of Texas Ranger history. Now, in the eagerly anticipated conclusion, Lone Star Lawmen, Utley once again chronicles the daring exploits of the Rangers, this time as they bring justice to the twentieth-century West.
Based on unprecedented access to Ranger archives, this fast-paced narrative stretches from the days of the Mexican Revolution (where atrocities against Mexican Americans marked the nadir of Ranger history) to the Branch Davidian saga near Waco and the recent bloody standoff with "Republic of Texas" militia. Readers will find in these pages one hundred years of high adventure. Utley follows the Rangers as they pursue bank robbers, bootleggers, moonshiners, and "horsebackers" (smugglers who used mule trains to bring liquor across the border). We see these fearless lawmen taming oil boomtowns, springing the ambush of Bonnie and Clyde, facing down angry lynch mobs, and tracking the "Phantom Killer" of Texarkana. Utley also highlights the gradual evolution of this celebrated force, revealing that while West Texas Rangers still occasionally ride the range on horseback and crack down on smugglers and rustlers, East Texas Rangers--who work mostly in big cities--now ride in high-powered cars and contend with kidnappers, forgers, and other urban criminals. But East or West, today's Rangers have become sophisticated professionals, backed by crime labs and forensic science.
Written by one of the most respected Western historians alive, here is the definitive account of the Texas Rangers, a vivid portrait of these legendary peace officers and their role in a changing West.

About the Author
Robert M. Utley is one of the leading historians of the American West. A former chief historian of the National Park Service, he is a founding member and former president of the Western Historical Association, and the author of sixteen books on the American West, including the best-selling The Lance and the Shield: The Life of Sitting Bull. He lives in Georgetown, Texas, with his wife Melody Webb, also a historian.
Advertisement