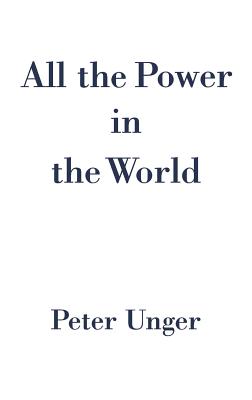 All the Power in the World
Hardcover

* Individual store prices may vary.
Other Editions of This Title:
Paperback (11/19/2007)
Description
This bold and original work of philosophy presents an exciting new picture of concrete reality. Peter Unger provocatively breaks with what he terms the conservatism of present-day philosophy, and returns to central themes from Descartes, Locke, Berkeley, Hume and Russell. Wiping the slate clean, Unger works, from the ground up, to formulate a new metaphysic capable of accommodating our distinctly human perspective. He proposes a world with inherently powerful particulars of two basic sorts: one mental but not physical, the other physical but not mental. Whether of one sort or the other, each individual possesses powers for determining his or her own course, as well as powers for interaction with other individuals. It is only a purely mental particular--an immaterial soul, like yourself--that is ever fit for real choosing, or for conscious experiencing. Rigorously reasoning that the only satisfactory metaphysic is one that situates the physical alongside the non-physical, Unger carefully explains the genesis of, and continual interaction of, the two sides of our deeply dualistic world. Written in an accessible and entertaining style, while advancing philosophical scholarship, All the Power in the World takes readers on a philosophical journey into the nature of reality. In this riveting intellectual adventure, Unger reveals the need for an entirely novel approach to the nature of physical reality--and shows how this approach can lead to wholly unexpected possibilities, including disembodied human existence for billions of years. All the Power in the World returns philosophy to its most ambitious roots in its fearless attempt to answer profoundly difficult human questions about ourselves and our world.

Oxford University Press, USA, 9780195155617, 670pp.
Publication Date: December 1, 2005
About the Author
Peter Unger, one of the world's most original and unorthodox philosophers, is a major contributor to metaphysics, epistemology, ethics, and philosophy of mind. A native New Yorker, for more than thirty years he has been a Professor of Philosophy at New York University. He is the author of Ignorance (OUP 1975, reissued 2002), Philosophical Relativity (1984, reissued by OUP 2002), Identity, Consciousness and Value (OUP 1990), Living High and Letting Die (OUP 1996), and forthcoming collections of his published philosophical papers (OUP, 2006).