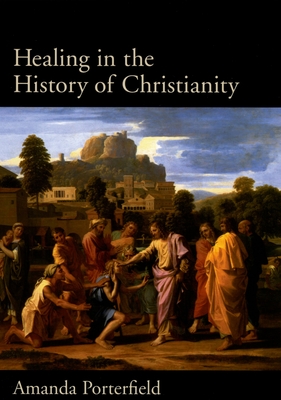 Healing in the History of Christianity (Hardcover)
Oxford University Press, USA, 9780195157185, 240pp.
Publication Date: October 1, 2005
Description
Healing is one of the most constant themes in the long and sprawling history of Christianity. Jesus himself performed many miracles of healing. In the second century, St. Ignatius was the first to describe the eucharist as the medicine of immortality. Prudentius, a 4th-century poet and Christian apologist, celebrated the healing power of St. Cyprian's tongue. Bokenham, in his 15th-century Legendary, reported the healing power of milk from St. Agatha's breasts. Zulu prophets in 19th-century Natal petitioned Jesus to cure diseases caused by restless spirits. And Mary Baker Eddy invoked the Science of Divine Mind as a weapon against malicious animal magnetism. In this book Amanda Porterfield demonstrates that healing has played a major role in the historical development of Christianity as a world religion. Porterfield traces the origin of Christian healing and maps its transformations in the ancient, medieval, and modern worlds. She shows that Christian healing had its genesis in Judean beliefs that sickness and suffering were linked to sin and evil, and that health and healing stemmed from repentance and divine forgiveness. Examining Jesus' activities as a healer and exorcist, she shows how his followers carried his combat against sin and evil and his compassion for suffering into new and very different cultural environments, from the ancient Mediterranean to modern America and beyond. She explores the interplay between Christian healing and medical practice from ancient times up to the present, looks at recent discoveries about religion's biological effects, and considers what these findings mean in light of ages-old traditions about belief and healing. Changing Christian ideas of healing, Porterfield shows, are a window into broader changes in religious authority, church structure, and ideas about sanctity, history, resurrection, and the kingdom of God. Her study allows us to see more clearly than ever before that healing has always been and remains central to the Christian vision of sin and redemption, suffering and bodily resurrection.

About the Author
Amanda Porterfield is Robert A. Spivey Professor of Religion at Florida State University. She is the author of The Transformation of American Religion: The Story of a Late-Twentieth-Century Awakening (OUP 2001).
Advertisement