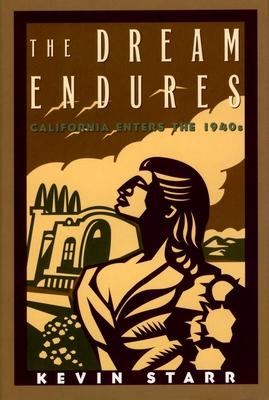 The Dream Endures (Paperback)
California Enters the 1940s
Oxford University Press, USA, 9780195157970, 496pp.
Publication Date: November 28, 2002
Other Editions of This Title:
Hardcover (5/8/1997)
* Individual store prices may vary.
Description
The fifth volume in Starr's classic history of California, The Dream Endures shows how Californians rebounded from the Great Depression to emerge in the 1930s into what is now known as "the good life." Starr illustrates the ways the good life prospered in California--in film, fiction, leisure, and architecture. Starr looks at the newly important places where Californians lived out this sunny lifestyle: areas like Los Angeles (where Hollywood lived), Palm Springs (where Hollywood vacationed), San Diego (where the Navy went), the California Institute of Technology in Pasadena (where Einstein changed his view of the universe), and college towns like Berkeley.
"In this, more than any other of Starr's monumental California histories, we see the stirrings of uniqueness in the social and cultural evolution of California. Starr's theme is relevant to all of America and the national destiny."--Neil Morgan, San Diego Union-Tribune
"Enormously sensitive and moving. Social and cultural history doesn't get any better."--San Francisco Chronicle
"In his monumental continuing study of California, Kevin Starr belongs in the company of the best."--Herbert Gold, Los Angeles Times Book Review

About the Author
Kevin Starr is State Librarian of California, Chairman of the State of California Sesquicentennial Commission, contributing editor of The Los Angeles Times, and a member of the faculty at the University of Southern California. He is the author of a number of books, including Americans and the California Dream, Inventing the Dream, Material Dreams, and Endangered Dreams.