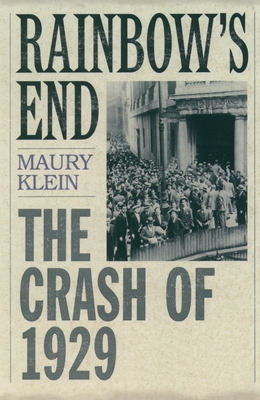 Rainbow's End: The Crash of 1929 (Paperback)
The Crash of 1929
Oxford University Press, USA, 9780195158014, 368pp.
Publication Date: May 1, 2003
Description
Rainbow's End tells the story of the stock market collapse in a colorful, swift-moving narrative that blends a vivid portrait of the 1920s with an intensely gripping account of Wall Street's greatest catastrophe. The book offers a vibrant picture of a world full of plungers, powerful bankers, corporate titans, millionaire brokers, and buoyantly optimistic stock market bulls. We meet Sunshine Charley Mitchell, head of the National City Bank, powerful financiers Jack Morgan and Jacob Schiff, Wall Street manipulators such as the legendary Jesse Livermore, and the lavish-living Billy Durant, founder of General Motors. As Klein follows the careers of these men, he shows us how the financial house of cards gradually grew taller, as the irrational exuberance of an earlier age gripped America and convinced us that the market would continue to rise forever. Then, in October 1929, came a "perfect storm"-like convergence of factors that shook Wall Street to its foundations. We relive Black Thursday, when police lined Wall Street, brokers grew hysterical, customers "bellowed like lunatics," and the ticker tape fell hours behind. This compelling history of the Crash--the first to follow the market closely for the two years leading up to the disaster--illuminates a major turning point in our history.

About the Author
Maury Klein is Professor of History at the University of Rhode Island and one of the most acclaimed historians of American business at work today. He is the author of many books, including The Life and Legend of Jay Gould, Unfinished Business: The Railroad in American Life, and Days of Defiance: Sumter, Secession, and the Coming of the Civil War.
Advertisement