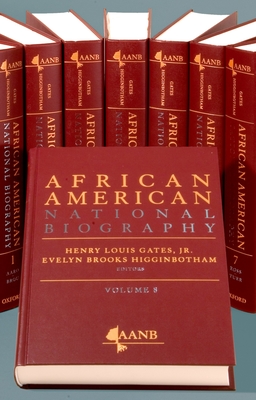 The African American National Biography: Eight-Volume Set (Hardcover)
Eight-Volume Set
Oxford University Press, USA, 9780195160192, 5568pp.
Publication Date: January 1, 2008
* Individual store prices may vary.
or
Not Currently Available for Direct Purchase
Description
The African American National Biography will present history through a mosaic of the lives of thousands of individuals, illuminating the abiding influence of persons of African descent on the life of this nation from the arrival of Esteban in Spanish Florida in 1529 through to notable black citizens of the present day. Available initially as a handsome 8-volume set containing over 4,000 entries written and signed by distinguished scholars, the AANB will continue to grow along with the field of African American biographical research, and continuous updates to the online edition will bring the total number of lives profiled to more than 5,000. This is a remarkable achievement, an eightfold increase over the number of biographies contained in 2004's award-winning and substantial African American Lives . In addition to Frederick Douglass, Booker T. Washington, W. E. B. Du Bois and Martin Luther King Jr., the AANB will include a wide range of African Americans from all time periods and all walks of life, both famous and nearly-forgotten. In the words of AANB editor Henry Louis Gates, Jr., "These stories, long buried in the dusty archives of history, will never be lost again. And that is what scholarship in the field of African American Studies should be all about." Features * The largest scholarly reference project covering African American lives and history ever undertaken * The most diverse and extensive collection of African American biographies: eight volumes containing 4,000 biographies and 1,000 images of notable black Americans * Biographies will be added to the Oxford African American Studies Center and updated on a regular basis, making new scholarship easily accessible and instantly available * Entries written by more than one thousand scholars and experts * Includes a Directory of Contributors, an Index of Subjects by Category or Area of Renown, and an Index of Prizewinners, Medalists, Members of Congress and Judges.
About the Author
Henry Louis Gates, Jr. is the Alphonse Fletcher University Professor and Director of the W. E. B. Du Bois Institute for African and African American Research, Harvard University. Evelyn Brooks Higginbotham is Professor of History and Afro-American Studies at Harvard University and editor of The Harvard Guide to African American History.
Advertisement