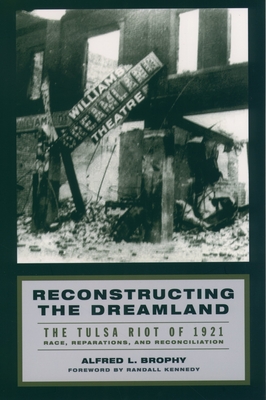 Reconstructing the Dreamland (Paperback)
The Tulsa Riot of 1921: Race, Reparations, and Reconciliation
Oxford University Press, USA, 9780195161038, 208pp.
Publication Date: April 1, 2003
* Individual store prices may vary.
Description
The 1921 Tulsa Race Riot was the country's bloodiest civil disturbance of the century. Thirty city blocks were burned to the ground, perhaps 150 died, and the prosperous black community of Greenwood, Oklahoma, was turned to rubble.
Brophy draws on his own extensive research into contemporary accounts and court documents to chronicle this devastating riot, showing how and why the rule of law quickly eroded. Brophy shines his lights on mob violence and racism run amok, both on the night of the riot and the following morning. Equally important, he shows how the city government and police not only permitted looting, shootings, and the burning of Greenwood, but actively participated in it by deputizing white citizens haphazardly, giving out guns and badges, or sending men to arm themselves. Likewise, the National Guard acted unconstitutionally, arresting every black resident they found, leaving property vulnerable to the white mob.
Brophy's stark narrative concludes with a discussion of reparations for victims of the riot through lawsuits and legislative action. That case has implications for other reparations movements, including reparations for slavery.
"Recovers a largely forgotten history of black activism in one of the grimmest periods of race relations.... Linking history with advocacy, Brophy also offers a reasoned defense of reparations for the riot's victims."--Washington Post Book World

About the Author
Alfred L. Brophy is Reef C. Ivey II Professor Law at the University of North Carolina. He is the author of Reparations: Pro and Con and Book Reviews Editor of Law and History Review. He contributed to the report to the Tulsa Race Riot Commission, a body created by the Oklahoma Legislature to investigate the riot and make recommendations for reparations. Brophy has appeared on CNN's News Night with Aaron Brown, NBC Nightly News, NPR's "Fresh Air," the "Tavis Smiley Show," and "Talk of the Nation," and has been quoted in such newspapers as the Chicago Tribune, Los Angeles Times, New York Times, and Washington Post.