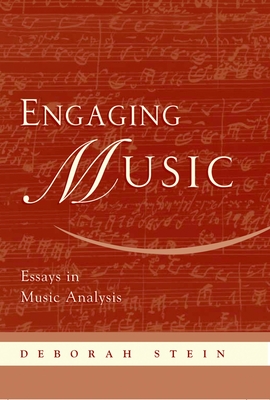 Engaging Music
Essays in Music Analysis
Hardcover

* Individual store prices may vary.
Description
The first collection of its kind, Engaging Music: Essays in Music Analysis includes twenty-two selections by highly esteemed contemporary music theorists, sixteen of which were written especially for this volume. Featuring work by such luminaries as Charles Burkhart, Edward T. Cone, Allen
Forte, David B. Lewin, and Carl Schachter, the book is an ideal text for undergraduate and graduate courses in form and analysis. It also serves as an invaluable reference for music teachers, students, and musicians.
Opening with an introduction to writing analytical essays, Engaging Music then presents introductory readings that describe analytical approaches to rhythm, meter, and phrase; pitch (twelve-tone music); form in jazz and rock music; and musical ambiguity. The following essays offer exemplary
models of analysis that cover a wide range of composers, from the Baroque (Purcell and Bach) and the Classical (Beethoven, Haydn, and Mozart) to the 19th-century (Brahms, Chopin, Schubert, Schumann, and Wagner) and the early 20th-century (Bart k, Schoenberg and Webern). The selections explore a
diversity of genres--from opera to music for computer-generated tape--and a variety of analytical approaches, from Schenkerian to feminist. The volume also includes analyses of popular music (from jazz to a Sarah MacLachlan song) and of a relatively recent work by Barbara Kolb. A comprehensive
glossary defines terms and concepts that may be unfamiliar to students, and a selected bibliography suggests other appropriate readings. Reflecting the broad spectrum of current interests and perspectives in the field, Engaging Music provides a unique window into the multifaceted world of music
theory and analysis.

Oxford University Press, USA, 9780195170108, 368pp.
Publication Date: November 4, 2004