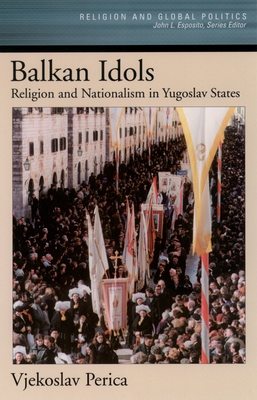 Balkan Idols (Paperback)
Religion and Nationalism in Yugoslav States (Religion and Global Politics)
Oxford University Press, USA, 9780195174298, 332pp.
Publication Date: February 1, 2004
* Individual store prices may vary.
Description
Reporting from the heartland of Yugoslavia in the 1970s, Washington Post correspondent Dusko Doder described "a landscape of Gothic spires, Islamic mosques, and Byzantine domes." A quarter century later, this landscape lay in ruins. In addition to claiming tens of thousands of lives, the former Yugoslavia's four wars ravaged over a thousand religious buildings, many purposefully destroyed by Serbs, Albanians, and Croats alike, providing an apt architectural metaphor for the region's recent history. Rarely has the human impulse toward monocausality--the need for a single explanation--been in greater evidence than in Western attempts to make sense of the country's bloody dissolution. From Robert Kaplan's controversial Balkan Ghosts, which identified entrenched ethnic hatreds as the driving force behind Yugoslavia's demise to NATO's dogged pursuit and arrest of Slobodan Milosevic, the quest for easy answers has frequently served to obscure the Balkans' complex history. Perhaps most surprisingly, no book has focused explicitly on the role religion has played in the conflicts that continue to torment southeastern Europe. Based on a wide range of South Slav sources and previously unpublished, often confidential documents from communist state archives, as well as on the author's own on-the-ground experience, Balkan Idols explores the political role and influence of Serbian Orthodox, Croatian Catholic, and Yugoslav Muslim religious organizations over the course of the last century. Vjekoslav Perica emphatically rejects the notion that a "clash of civilizations" has played a central role in fomenting aggression. He finds no compelling evidence of an upsurge in religious fervor among the general population. Rather, he concludes, the primary religious players in the conflicts have been activist clergy. This activism, Perica argues, allowed the clergy to assume political power without the accountability faced by democratically-elected officials. What emerges from Perica's account is a deeply nuanced understanding of the history and troubled future of one of Europes most volatile regions.

About the Author
A former reporter for the Croatian weekly Nedjeljna Dalmacija and Research Fellow at The Woodrow Wilson International Center for Scholars and The United States Institute of Peace, Vjekoslav Perica is currently a Visiting Professor in the Department of History at Brigham Young University. He received his Ph.D. in History from the University of Minnesota.