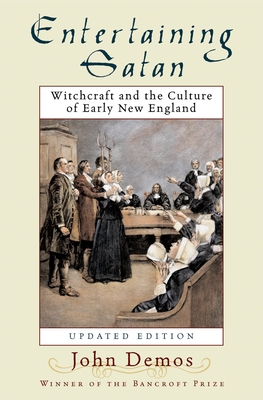 Entertaining Satan (Paperback)
Witchcraft and the Culture of Early New England
Oxford University Press, USA, 9780195174830, 543pp.
Publication Date: September 1, 2004
* Individual store prices may vary.
Description
In the first edition of the Bancroft Prize-winning Entertaining Satan, John Putnam Demos presented an entirely new perspective on American witchcraft. By investigating the surviving historical documents of over a hundred actual witchcraft cases, he vividly recreated the world of New England during the witchcraft trials and brought to light fascinating information on the role of witchcraft in early American culture. Now Demos has revisited his original work and updated it to illustrate why these early Americans' strange views on witchcraft still matter to us today. He provides a new preface that puts forth a broader overview of witchcraft and looks at its place around the world--from ancient times right up to the present.

About the Author
John Putnam Demos is Samuel Knight Professor of History at Yale University in New Haven, Connecticut. He is the author of A Little Commonwealth: Family Life in Plymouth Colony and The Unredeemed Captive: A Family Story from Early America.