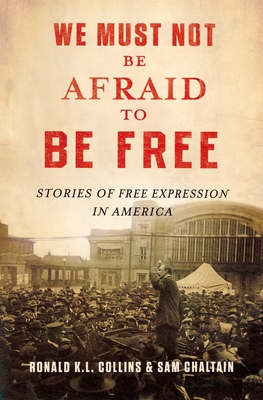 We Must Not Be Afraid to Be Free (Hardcover)
Stories of Free Expression in America
Oxford University Press, USA, 9780195175721, 439pp.
Publication Date: February 25, 2011
* Individual store prices may vary.
Description
In a stinging dissent to a 1961 Supreme Court decision that allowed the Illinois state bar to deny admission to prospective lawyers if they refused to answer political questions, Justice Hugo Black closed with the memorable line, "We must not be afraid to be free." Black saw the First Amendment as the foundation of American freedom--the guarantor of all other Constitutional rights. Yet since free speech is by nature unruly, people fear it. The impulse to curb or limit it has been a constant danger throughout American history. In We Must Not Be Afraid to Be Free, Ron Collins and Sam Chaltain, two noted free speech scholars and activists, provide authoritative and vivid portraits of free speech in modern America. The authors offer a series of engaging accounts of landmark First Amendment cases, including bitterly contested cases concerning loyalty oaths, hate speech, flag burning, student anti-war protests, and McCarthy-era prosecutions. The book also describes the colorful people involved in each case--the judges, attorneys, and defendants--and the issues at stake. Tracing the development of free speech rights from a more restrictive era--the early twentieth century--through the Warren Court revolution of the 1960s and beyond, Collins and Chaltain not only cover the history of a cherished ideal, but also explain in accessible language how the law surrounding this ideal has changed over time. Essential for anyone interested in this most fundamental of our rights, We Must Not Be Afraid to Be Free provides a definitive and lively account of our First Amendment and the price courageous Americans have paid to secure them.

About the Author
Ronald K. L. Collins is the Harold S. Shefelman Scholar at the University of Washington School of Law and a fellow at the First Amendment Center. He is the editor of The Fundamental Holmes: A Free Speech Chronicle and Reader. Sam Chaltain is the past National Director of the Forum for Education and Democracy in Washington, DC. He writes and consults regularly about democracy and learning.