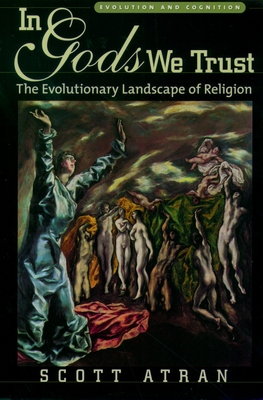 In Gods We Trust
The Evolutionary Landscape of Religion (Evolution and Cognition)
Paperback

* Individual store prices may vary.
Description
This ambitious, interdisciplinary book seeks to explain the origins of religion using our knowledge of the evolution of cognition. A cognitive anthropologist and psychologist, Scott Atran argues that religion is a by-product of human evolution just as the cognitive intervention, cultural selection, and historical survival of religion is an accommodation of certain existential and moral elements that have evolved in the human condition.

Oxford University Press, USA, 9780195178036, 348pp.
Publication Date: December 9, 2004
About the Author
Scott Atran is a Director of Research at the Institut Jean Nicod at the Centre National de Recherche Scientifique (CNRS) in Paris. He is also Adjunct Professor of Anthropology, Psychology, and Natural Resources and the Environment at the Institute for Social Research at the University of Michigan, Ann Arbor. A respected cognitive anthropologist and psychologist, his publications include Fondement de l'histoire naturelle, Cognitive Foundations of Natural History: Towards an Anthropology of Science, and Folk Biology. He has done long-term fieldwork in the Middle East and has also written and experimented extensively on the ways scientists and ordinary people categorize and reason about nature. He currently directs an international, multidisciplinary project on the natural history of the Lowland Maya.