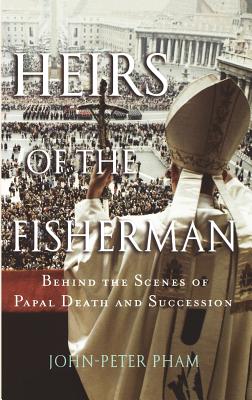 Heirs of the Fisherman: Behind the Scenes of Papal Death and Succession (Hardcover)
Behind the Scenes of Papal Death and Succession
Oxford University Press, USA, 9780195178340, 384pp.
Publication Date: January 1, 2005
Description
The death of Pope John Paul II and consequent election of Pope Benedict XVI has shed light on a political process that the world has not been privy to for almost twenty-six years. People from around the world gathered in St. Peter's Square, wondering who the next Vatican leader would be and how the election process really worked, while everyone from international news correspondents to local priests added their own opinions to the debate.
In Heirs of the Fisherman, former Vatican insider John-Peter Pham presents a candid portrait of the modern Vatican, the only account to reveal the striking changes to papal succession procedures made by John Paul II. Blending political and ecclesiastical history, Pham goes beyond a mere description of the complex rituals to offer rare insight into the dramatic shifts inside the College of Cardinals, whose 100 members now hail from 50 nations around the globe. He takes us into the secret conclave, where the electors were kept under lock and key, until they had selected a new pope. He also includes a chapter devoted to the intrigues of the 20th century where the first conclave had an emperor's veto and the last was won by the first non-Italian in four centuries becauase the Italians were bitterly divided.
With a new Preface, Afterword, and appendices that include an English translation of the last will and testament of Pope John Paul II, Heirs of the Fisherman is an illuminating history and must-have guide to this vitally important world event. It will continue to be an indispensable reference to observers of future Catholic Church politics.

About the Author
John-Peter Pham is a frequent writer and commentator on religious and public affairs. An alumnus of the post-graduate Pontifical Ecclesiastical Academy, he served as a Vatican diplomat as well as an aide to both the Vicar General of His Holiness for the Vatican and the President of the Pontifical Council for Justice and Peace. Dr. Pham is presently the Director of the Nelson Institute for International and Public Affairs at James Madison University.
Advertisement