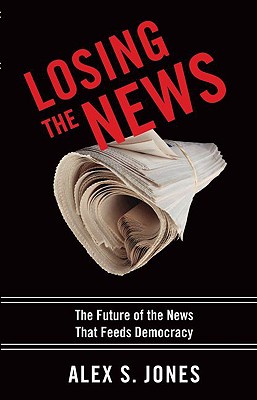 Losing the News
The Future of the News That Feeds Democracy (Institutions of American Democracy)
Hardcover

* Individual store prices may vary.
Other Editions of This Title:
Paperback (1/21/2011)
MP3 CD (7/5/2016)
Description
In Losing the News, Pulitzer Prize-winning journalist Alex S. Jones offers a probing look at the epochal changes sweeping the media, changes which are eroding the core news that has been the essential food supply of our democracy.
At a time of dazzling technological innovation, Jones says that what stands to be lost is the fact-based reporting that serves as a watchdog over government, holds the powerful accountable, and gives citizens what they need. In a tumultuous new media era, with cutthroat competition and panic over profits, the commitment of the traditional news media to serious news is fading. Indeed, as digital technology shatters the old economic model, the news media is making a painful passage that is taking a toll on journalistic values and standards. Journalistic objectivity and ethics are under assault, as is the bastion of the First Amendment. Jones characterizes himself not as a pessimist about news, but a realist. The breathtaking possibilities that the web offers are undeniable, but at what cost? Pundits and talk show hosts have persuaded Americans that the crisis in news is bias and partisanship. Not so, says Jones. The real crisis is the erosion of the iron core of news, something that hurts Republicans and Democrats alike.
Losing the News depicts an unsettling situation in which the American birthright of fact-based, reported news is in danger. But it is also a call to arms to fight to keep the core of news intact. Praise for the hardcover: "Thoughtful."
--New York Times Book Review "An impassioned call to action to preserve the best of traditional newspaper journalism."
--The San Francisco Chronicle "Must reading for all Americans who care about our country's present and future. Analysis, commentary, scholarship and excellent writing, with a strong, easy-to-follow narrative about why you should care, makes this a candidate for one of the best books of the year."
--Dan Rather

Oxford University Press, USA, 9780195181234, 234pp.
Publication Date: August 1, 2009
About the Author
Alex S. Jones is one of the nation's most frequently cited authorities on media issues. He covered the press for The New York Times from 1983 to 1992 and was awarded the Pulitzer Prize in 1987. For the past eight years he has been Director of Harvard University's Shorenstein Center on the Press, Politics and Public Policy and is the Laurence M. Lombard Lecturer in the Press and Public Policy at the Harvard Kennedy School. He is co-author with Susan E. Tifft of The Patriarch: The Rise and Fall of the Bingham Dynasty and The Trust: The Private and Powerful Family Behind The New York Times, which was a finalist for the National Book Critics Circle award. He has been host of National Public Radio's On The Media, and host and executive editor of PBS's Media Matters .
Coverage from NPR
or
Not Currently Available for Direct Purchase