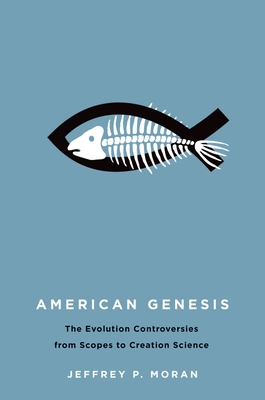 American Genesis
The Antievolution Controversies from Scopes to Creation Science
Hardcover

* Individual store prices may vary.
Other Editions of This Title:
MP3 CD (7/5/2016)
Description
The question of teaching evolution in the public schools is a continuing and frequently heated political issue in America. From Tennessee's Scopes Trial in 1925 to recent battles that have erupted in Louisiana, Kansas, Ohio, and countless other localities, the critics and supporters of
evolution have fought nonstop over the role of science and religion in American public life. In American Genesis, Jeffrey P. Moran explores the ways in which the evolution debate has reverberated beyond the confines of state legislatures and courthouses. Using extensive research in newspapers, periodicals, and archives, Moran shows that social forces such as gender, regionalism, and race
have intersected with the debate over evolution in ways that shed light on modern American culture. He investigates, for instance, how antievolutionism deepened the cultural divisions between North and South--northerners embraced evolution as a sign of sectional enlightenment, while southerners
defined themselves as the standard bearers of true Christianity. Evolution debates also exposed a deep gulf between conservative Black Christians and secular intellectuals such as W. E. B. DuBois. Moran also explores the ways in which the struggle has played out in the universities, on the internet,
and even within the evangelical community. Throughout, he shows that evolution has served as a weapon, as an enforcer of identity, and as a polarizing force both within and without the churches. America has both the most advanced scientific infrastructure as well as the highest rate of church adherence among developed nations, and the issues raised in the evolution controversies touch the heart of our national identity. American Genesis makes an important contribution to our understanding
of the impact of this contentious issue, revealing how its tendrils have stretched out to touch virtually every corner of our lives.

Oxford University Press, USA, 9780195183498, 216pp.
Publication Date: March 5, 2012
About the Author
Jeffrey P. Moran is Associate Professor of History at the University of Kansas. He is the author of Teaching Sex: The Shaping of Adolescence in the Twentieth Century and The Scopes Trial: A Brief History with Documents.