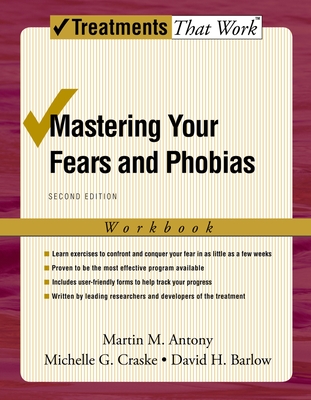 Mastering Your Fears and Phobias (Paperback)
Workbook
Oxford University Press, USA, 9780195189186, 189pp.
Publication Date: August 1, 2006
* Individual store prices may vary.
Description
This 13-session program incorporates new procedures to help clients learn to monitor their anxiety, gain control, and initiate needed change through cognitive restructuring, progressive muscle relaxation, and direct confrontation of unnecessary worry using imagery and In Vivo Experience. The videotape helps therapists gain a better understanding of cognitive behavioral therapy for the treatment of generalized anxiety disorder. In this program, clients will learn to control their "out-of-control" worry and anxiety. The program is divided into 13 components or lessons. In each lesson, clients will learn specific skills. The skills will build on each other so that in each new lesson, they will use skills learned in earlier lessons. The types of skills that they will learn include reducing physical tension, controlling excessive worry, and dealing with real problem situations. The program is obviously structured, but within that structure, there is room for individual tailoring, since individual differences are very important for understanding what will help each client the most. At the end of each lesson, there is an exercise and a self-assessment section that is there for clients to see if they have learned the important information. If not, it is a sign for them to go back over the material again. Most people go over the lesson repeatedly. In addition, specific exercises are outlined at the end of each chapter.