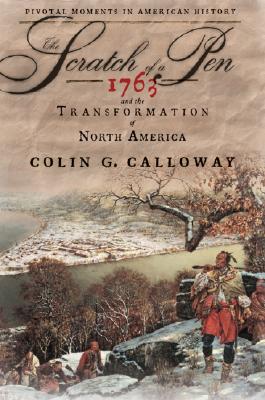 The Scratch of a Pen (Hardcover)
1763 and the Transformation of North America
Oxford University Press, 9780195300710, 219pp.
Publication Date: May 1, 2006
* Individual store prices may vary.
or
Not Currently Available for Direct Purchase
Description
In this superb volume in Oxford's acclaimed Pivotal Moments series, Colin Calloway reveals how the Treaty of Paris of 1763 had a profound effect on American history, setting in motion a cascade of unexpected consequences, as Indians and Europeans, settlers and frontiersmen, all struggled to adapt to new boundaries, new alignments, and new relationships. Britain now possessed a vast American empire stretching from Canada to the Florida Keys, yet the crushing costs of maintaining it would push its colonies toward rebellion. White settlers, free to pour into the West, clashed as never before with Indian tribes struggling to defend their way of life. In the Northwest, Pontiac's War brought racial conflict to its bitterest level so far. Whole ethnic groups migrated, sometimes across the continent: it was 1763 that saw many exiled settlers from Acadia in French Canada move again to Louisiana, where they would become Cajuns. Calloway unfurls this panoramic canvas with vibrant narrative skill, peopling his tale with memorable characters such as William Johnson, the Irish baronet who moved between Indian campfires and British barracks; Pontiac, the charismatic Ottawa chieftain; and James Murray, Britains first governor in Quebec, who fought to protect the religious rights of his French Catholic subjects. Most Americans know the significance of the Declaration of Independence or the Emancipation Proclamation, but not the Treaty of Paris. Yet 1763 was a year that shaped our history just as decisively as 1776 or 1862. This captivating book shows why. Winner of the Society of Colonial Wars Book Award for 2006

About the Author
Colin G. Calloway is Professor of History and Samson Occom Professor of Native American Studies at Dartmouth College. His many books on early American history include New Worlds for All: Indians, Europeans, and the Remaking of Early America and The American Revolution in Indian Country. His most recent work, One Vast Winter Count: The Native American West Before Lewis and Clark (2003), received the Ray Allen Billington Prize, the Merle Curti Award, and many other prizes and was named one of Publishers Weekly's Best Books of the Year.
Advertisement