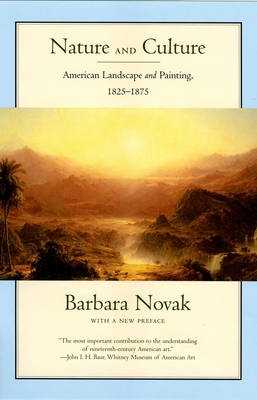 Nature and Culture
American Landscape and Painting, 1825-1875, with a New Preface
Hardcover

* Individual store prices may vary.
Description
In this richly illustrated volume, featuring more than fifty black-and-white illustrations and a beautiful eight-page color insert, Barbara Novak describes how for fifty extraordinary years, American society drew from the idea of Nature its most cherished ideals. Between 1825 and 1875, all kinds of Americans--artists, writers, scientists, as well as everyday citizens--believed that God in Nature could resolve human contradictions, and that nature itself confirmed the American destiny. Using diaries and letters of the artists as well as quotes from literary texts, journals, and periodicals, Novak illuminates the range of ideas projected onto the American landscape by painters such as Thomas Cole, Albert Bierstadt, Frederic Edwin Church, Asher B. Durand, Fitz H. Lane, and Martin J. Heade, and writers such as Ralph Waldo Emerson, Henry David Thoreau, and Frederich Wilhelm von Schelling.
Now with a new preface, this spectacular volume captures a vast cultural panorama. It beautifully demonstrates how the idea of nature served, not only as a vehicle for artistic creation, but as its ideal form. "An impressive achievement."
--Barbara Rose, The New York Times Book Review "An admirable blend of ambition, elan, and hard research. Not just an art book, it bears on some of the deepest fantasies of American culture as a whole."
--Robert Hughes, Time Magazine

Oxford University Press, USA, 9780195305869, 352pp.
Publication Date: December 1, 2006
About the Author
Barbara Novak is Helen Goodhart Altschul Professor of Art History Emerita at Barnard College and Columbia University. She is the acclaimed author of American Painting of the Nineteenth Century ("surely the best book ever written on the subject"-Hilton Kramer, The New York Times Book Review) and Nature and Culture ("awesomely good"-Anatole Broyard, The New York Times). She has been a Commissioner of the Smithsonian's National Portrait Gallery for the last twenty-five years.
or
Not Currently Available for Direct Purchase