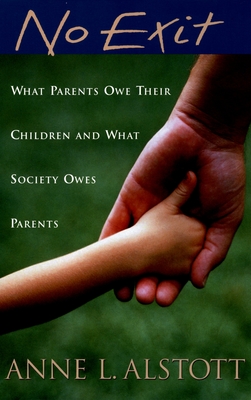 No Exit: What Parents Owe Their Children and What Society Owes Parents (Paperback)
What Parents Owe Their Children and What Society Owes Parents
Oxford University Press, USA, 9780195306415, 254pp.
Publication Date: December 1, 2005
Description
In order to create a more secure world for children and their parents, Anne Alstott argues, we must fundamentally change the way we think about parents' obligations to children--and about society's obligations to parents. Drawing on the same innovative thinking that propelled her and Bruce Ackerman's influential work The Stakeholder Society, Alstott proposes a solution both pragmatic and controversial. She outlines two unsentimental proposals intended to improve parents' economic options while respecting every individual's own choices about how best to combine paid work and child-rearing. Rejecting both state paternalism and easy libertarianism, Alstott's proposals are bold and unapologetic in their implications.
About the Author
Anne L. Alstott is a Professor of Law at Yale University. Prior to her work at Yale, she worked as a lawyer for the U.S. Treasury Department and for a Wall Street law firm. She has written numerous articles on social welfare policy and tax policy, and is co-author with Bruce Ackerman of The Stakeholder Society.
Advertisement