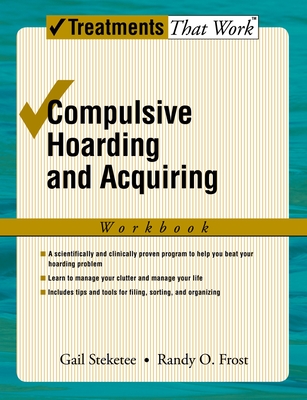 Compulsive Hoarding and Acquiring (Paperback)
Workbook
Oxford University Press, USA, 9780195310559, 160pp.
Publication Date: November 1, 2006
Other Editions of This Title:
Paperback (11/1/2006)
* Individual store prices may vary.
Description
Although most people enjoy acquiring and using their possessions and nearly everyone keeps some things they dont need or use, people with compulsive hoarding carry this to an extreme. For them, ridding themselves of extra possessions is emotionally exhausting. Organizing is difficult and resisting the impulse to acquire new things is almost impossible. This book represents more than a decade of research and practice to understand hoarding and develop an effective treatment program that address its many components.
Used in conjunction with the treatment described in the therapist guide, this workbook teaches people how to minimize the negative effect clutter has on their lives, as well as the lives of those close to them. Using effective and practical techniques and skills, this program helps people get used to the idea of sorting, organizing, and gradually removing their unwanted possessions. People who hoard tend to overvalue the importance of the things they own and keep. This book will also help people to recognize errors in their thinking and modify their thoughts and beliefs to more accurately reflect the value of their belongings. Worksheets for developing a personal organization plan and determining categories for filing are also included in this interactive, easy-to-use workbook. With these books, users can be active participants who successfully overcome their compulsive hoarding.
TreatmentsThatWorkTM represents the gold standard of behavioral healthcare interventions
. All programs have been rigorously tested in clinical trials and are backed by years of research
. A prestigious scientific advisory board, led by series Editor-In-Chief David H. Barlow, reviews and evaluates each intervention to ensure that it meets the highest standard of evidence so you can be confident that you are using the most effective treatment available to date
. Our books are reliable and effective and make it easy for you to provide your clients with the best care available
. Our corresponding workbooks contain psychoeducational information, forms and worksheets, and homework assignments to keep clients engaged and motivated
. A companion website (www.oup.com/us/ttw) offers downloadable clinical tools and helpful resources
. Continuing Education (CE) Credits are now available on select titles in collaboration with PsychoEducational Resources, Inc. (PER)
or
Not Currently Available for Direct Purchase