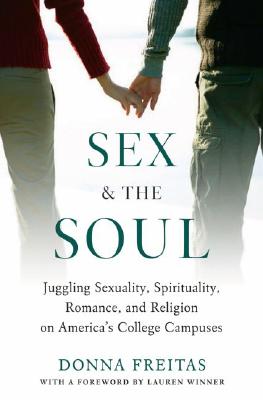 Sex and the Soul: Juggling Sexuality, Spirituality, Romance, and Religion on America's College Campuses (Hardcover)
Juggling Sexuality, Spirituality, Romance, and Religion on America's College Campuses
Oxford University Press, USA, 9780195311655, 299pp.
Publication Date: April 11, 2008
* Individual store prices may vary.
or
Not Currently Available for Direct Purchase
Description
Based on dozens of face-to-face interviews, Sex and the Soul explores the sexual and spiritual lives of today's college students. Donna Freitas crisscrossed the country, visiting a range of America's colleges and universities--from public to private, Catholic to evangelical--to find out what students had to say about these highly personal subjects. Their stories will not only engage readers, but, in many cases, move them with the painful struggles these candid young women and men face. Indeed, the book uncovers aspects of college life that may unsettle some readers, especially parents. Many campuses, for instance, are dominated by the pervasiveness of hook-up culture. Moreover, many students see little connection between sex and religion, even as they seek one between sex and spirituality. Indeed, these observations hold true even at Catholic schools. Only at evangelical colleges is religion an important factor when deciding whether or not to engage in sex. But Freitas's research also reveals that, even at secular schools, students are not comfortable with a culture of casual sex, and that they do want spirituality, at least, if not also religion, to speak about what they should do and who they should try to be--not just what they should avoid doing.
Sex and the Soul will offer readers the chance to hear college students speaking honestly about extremely sensitive topics, in a book that will be of great interest to students, parents, clergy, teachers, and anyone who wants to know what's happening on today's college campuses.
Named one of the Best Religion Books of 2008 by Publishers Weekly
"Fascinating, disturbing...engaging...persuasive.... Freitas's work chronicles a poignant spiritual loss that students themselves articulate and mourn."
--Publishers Weekly
"Candid, disturbing, yet ultimately hopeful....Throughout this beautifully written book, Freitas presents students' feelings and experiences in an unflinching yet compassionate way. You care about these young people and their struggles. This book is a great service to students, parents, and those at colleges and universities who want to prepare young adults not just for the workplace but for healthy and fulfilling lives."
--Christian Science Monitor.
About the Author
Donna Freitas is Associate Professor of Religion at Hofstra University, and Writer in Residence at Hofstra's Honors College.. A regular contributor to Publishers Weekly, she has also written for The Wall Street Journal, The New York Times, and Christianity Today, and she has frequently lectured on Sex and the Soul at colleges and universities all over the country since its publication.
Advertisement