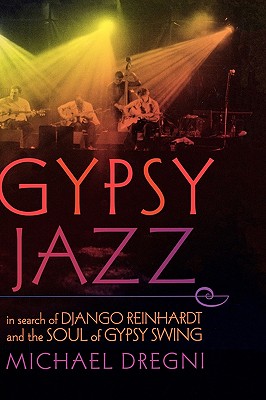 Gypsy Jazz
In Search of Django Reinhardt and the Soul of Gypsy Swing
Hardcover

* Individual store prices may vary.
Other Editions of This Title:
Paperback (8/20/2010)
Description
Of all the styles of jazz to emerge in the twentieth century, none is more passionate, more exhilaratingly up-tempo, or more steeped in an outsider tradition than Gypsy Jazz. And there is no one more qualified to write about Gypsy Jazz than Michael Dregni, author of the acclaimed biography, Django. A vagabond music, Gypsy Jazz is played today in French Gypsy bars, Romany encampments, on religious pilgrimages--and increasingly on the world's greatest concert stages. Yet its story has never been told, in part because much of its history is undocumented, either in written form or often even in recorded music. Beginning with Django Reinhardt, whose dazzling Gypsy Jazz became the toast of 1930s Paris in the heady days of Josephine Baker, Picasso, and Hemingway, Dregni follows the music as it courses through caravans on the edge of Paris, where today's young French Gypsies learn Gypsy Jazz as a rite of passage, along the Gypsy pilgrimage route to Les Saintes-Maries-de-la-Mer where the Romany play around their campfires, and finally to the new era of international Gypsy stars such as Bireli Lagrene, Boulou Ferre, Dorado Schmitt, and Django's own grandchildren, David Reinhardt and Dallas Baumgartner. Interspersed with Dregni's vivid narrative are the words of the musicians themselves,
many of whom have never been interviewed for the American press before, as they describe what the music means to them. Gypsy Jazz also includes a chapter devoted entirely to American Gypsy musicians who remain largely unknown outside their hidden community. Blending travelogue, detective story, and personal narrative, Gypsy Jazz is music history at its best, capturing the history and culture of this elusive music--and the soul that makes it swing.

Oxford University Press, USA, 9780195311921, 352pp.
Publication Date: April 4, 2008
About the Author
Michael Dregni is a columnist, reviewer, and feature writer for Vintage Guitar magazine, and author of Django: The Life and Music of a Gypsy Legend (OUP, 2004).