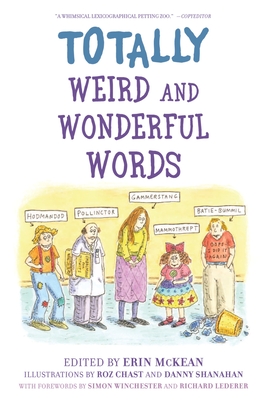 Totally Weird and Wonderful Words (Paperback)
Oxford University Press, USA, 9780195312126, 270pp.
Publication Date: October 1, 2006
* Individual store prices may vary.
Description
Do you know what a snollygoster is? Would you eat something called a muktuk? Do you know anyone who engages in onolatry? Impress your friends and pepper your dinner party conversations with such nuggets as gobemouche, mumpsimus, and cachinnate. You can learn about all of these bizarre and beautiful words and many more in Totally Weird and Wonderful Words. Both witty and entertaining, this new paperback brings together two best-selling compendiums to all words unique and strange, Weird and Wonderful Words and More Weird and Wonderful Words. Offering a potpourri of colorful and fascinating words compiled by noted lexicographer Erin McKean, it contains hundreds of definitions, and has been updated to include two new essays, with over 150 words new to this edition. Written in a clear and conversational style, the book contains full-page cartoon illustrations by Roz Chast and Danny Shanahan. Featuring hundreds of words guaranteed to amuse and astonish, this is a book that will appeal to logophiles everywhere. It also features a bibliography of Oxford dictionaries and a guide to creating your own unusual words correctly from Greek and Latin roots. Smart and funny and with just a touch of whimsy, Totally Weird and Wonderful Words is the perfect book for reading in your sitooterie with a bumbo in your hand while mavises sing in your ear.

About the Author
Erin McKean is the Senior Editor for the Oxford University Press North American Dictionary Program and the Editor of Verbatim magazine. Roz Chast is a staff cartoonist for The New Yorker and the author of more than five books of cartoons. Danny Shanahan is a staff cartoonist for the New Yorker and illustrator of numerous books, including The Dead Sea Scroll Palindromes.