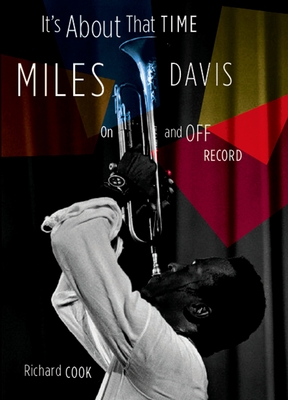 It's about That Time (Hardcover)
Miles Davis on and Off Record
Oxford University Press, USA, 9780195322668, 373pp.
Publication Date: January 29, 2007
* Individual store prices may vary.
Description
Here is quite simply one of the most original books about a jazz musician ever published--a biography-cum-discography that focuses in turn on fourteen major albums recorded by Miles Davis, using them as a jumping off point for an illuminating discussion of the turbulent life and work of the "Evil Genius of Jazz."
Richard Cook, a veteran writer respected throughout the jazz world, looks at such landmark recordings as Birth of the Cool, Miles Ahead, Kind of Blue, The Complete Live at The Plugged Nickel, In a Silent Way, Bitches Brew, and Live at Montreux. Each of these recordings is considered in detail, illuminating their contribution to Davis's development as instrumentalist, group leader, and composer. But Cook goes well beyond these fourteen albums, evaluating all the trumpeter's recordings (official and bootleg), and relating them to events in Miles's life as well as to wider currents in contemporary music. Cook helps us disentangle Miles the legendary figure from the music itself, to re-hear and reconsider this marvelous body of work ranging over four exhilarating decades. The author also highlights the indispensable contributions of sidemen such as John Coltrane, Cannonball Adderley, Herbie Hancock, John McLaughlin, John Scofield, and many others, as well as calling for a reassessment of the importance of such "satellite" figures as Gil Evans, Bill Evans, Wayne Shorter, Tony Williams and Chick Corea in the development of Miles's music.
A comprehensive and rigorous guide to the music and life of Miles Davis, It's About That Time is a stunning book that burns away the fog of myth that surrounds its complex and contrary subject.

About the Author
Richard Cook is the Editor of Jazz Review, the leading British jazz magazine, the co-author (with Brian Morton) of the monumental Penguin Guide to Jazz on CD, and the author of Blue Note Records: The Biography and Richard Cook's Jazz Encyclopedia. His articles have appeared in such magazines and newspapers as The Wire and The Sunday Times. He was also host of a jazz radio program on Greater London Radio and a former contributor to BBC radio productions.