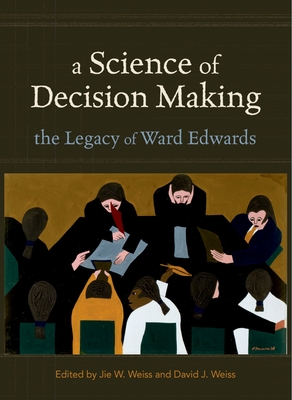 A Science of Decision Making (Hardcover)
The Legacy of Ward Edwards
Oxford University Press, USA, 9780195322989, 511pp.
Publication Date: November 7, 2008
* Individual store prices may vary.
Description
Ward Edwards is well known as the father of behavioral decision making. In his 1954 Psychological Bulletin paper on decision making, he brought psychological ideas into what had been the province of economists. His influence in this realm is so pervasive that the Nobel committee was able to trace a direct path from Edwards's work to Daniel Kahneman's 2002 Prize for prospect theory. In a 1963 Psychological Review paper, Edwards brought Bayesian statistics to the attention of psychologists, who have continued to proliferate Bayesian ideas, underscoring the importance of the perspective. In a 1962 IEEE paper, Edwards foresaw how the world of intelligence gathering and analysis could by transformed by systems in which humans provided (subjective) probabilities and machines provided computational power. He also showed, in a 1986 book written with Detlof von Winterfeldt, how multiattribute utility analysis could help real-world decision makers generate satisfactory solutions to complex problems. In this book, 29 of Ward Edwards's most important published papers are reprinted, a selection that spans six decades, allowing the reader to see how this strikingly creative thinker generated many of the ideas that are now core beliefs among current researchers. It is perhaps less well known that Edwards continued to make substantial contributions during the years after his retirement. Illness reduced his public appearances, but he continued his incisive thinking behind the scenes. At the time of his passing, he was involved in several projects, and seven new papers from these projects were completed for this book by his last set of collaborators. Edwards's papers are a treat to read. His prose is the model of elegant simplicity, yet full of style and wit. With each paper, the editors have included a short introduction that presents Edwards's reflections on the content or impact of the older papers, or describes the creation of the new ones. Obituaries written by former students and colleagues flesh out the human side of this remarkable scholar.

About the Author
Jie W. Weiss earned a doctorate in clinical health psychology from Alliant University after spending the early part of her academic career as a professor of American literature in China. During a postdoctoral period at the University of Southern California, she worked on the problem of adolescent smoking and drug use. Currently a faculty member in the Department of Health Science at California State University, Fullerton, she adopted a decision-making focus for her research after meeting Ward Edwards. David J. Weiss received his bachelor's degree from the University of Pennsylvania and his doctorate from the University of California, San Diego. Since 1970, he has been in the Psychology Department at California State University, Los Angeles. His research domain is judgment and decision making, with recent emphasis on the assessment of expertise when no external standard of proficiency is available.