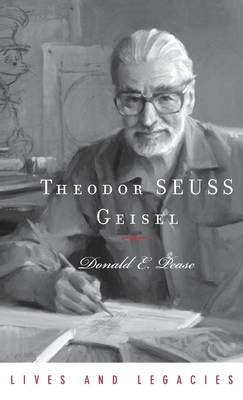 Theodor Geisel
A Portrait of the Man Who Became Dr. Seuss (Lives & Legacies (Oxford))
Hardcover

* Individual store prices may vary.
Other Editions of This Title:
Paperback (9/1/2016)
Description
Dr. Seuss's infectious rhymes, fanciful creatures, and roundabout plots not only changed the way children read but imagined the world. And to Think That I Saw It On Mulberry Street, Green Eggs and Ham, The Cat and the Hat, these and other classics have sold hundreds of millions of copies and entertained children and adults for decades. After graduating from Dartmouth, Theodor Geisel used his talents as an ad-man, political provocateur, and social satirist, gradually but irrevocably turning to children's books. Theodor Geisel tells the unlikely story of this remarkable transformation. In this compact and engrossing biography, Donald Pease reveals the evolution of Dr. Seuss's creative persona while offering an honest appraisal of his life. The book also features many of Dr. Seuss's lesser-known illustrations, including college drawings, insecticide ads, and wartime political cartoons--all of which offer a glimpse of his early artistic style and the visual origins of the more famous creatures that later populated his children's books. As Pease traces the full arc of Dr. Seuss's prolific career, he combines close textual readings of many of Dr. Seuss's works with a unique look at their genesis to shed new light on the enduring legacy of America's favorite children's book author.

Oxford University Press, USA, 9780195323023, 192pp.
Publication Date: March 10, 2010
About the Author
Donald Pease is Professor of English, Comparative Literature, and African-American Literature at Dartmouth, the Avalon Foundation Chair of the Humanities, the Founding Director of the Futures of American Studies Institute at Dartmouth, and the Chair of the Dartmouth Liberal Studies Program.