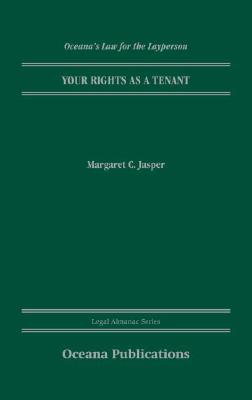 Your Rights as a Tenant (Hardcover)
Oceana Publications, 9780195323627, 193pp.
Publication Date: December 20, 2007
* Individual store prices may vary.
Description
First-time renters and seasoned renters alike will be grateful for this volume, which covers the legal rights of tenants through every stage of the housing process. From dealing with rental agents and issues of fair housing and discrimination, to the rights one has once a lease is signed, this guide clearly spells out the rights as well as the responsibilities of those renting property. The final stages of 'tenanthood' are also covered in depth, including renegotiating the lease, breaking the lease, obtaining security deposit refunds, and dealing with eviction.
L The Legal Almanac Series consists of over 75 handy guides for the lay person on all aspects of the law. Each volume includes an overview of the topic followed by chapters on the major issues in that subject. Each volume contains an Appendix containing several primary source documents as well as practical forms and checklists. A Glossary defines any technical terms used in the text.
L.
About the Author
Margaret C. Jasper is an attorney engaged in the general practice of law in South Salem, New York. Ms. Jasper holds a JD from Pace University School of Law, and is a member of the New York and Connecticut bars. She is also certified to practice before the United States District Courts for the Southern and Eastern Districts of New York, the United States Court of Appeals for the Second Circuit, and the United States Supreme Court. She has been appointed to the law guardian panel for the Family court of the State of New York, is a member of a number of professional organizations and associations, and is a New York State licensed real estate broker.