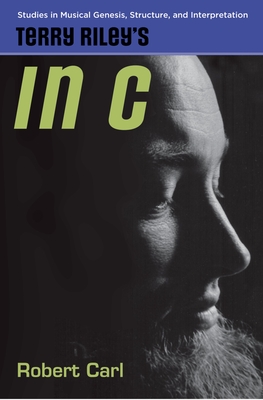 Terry Riley's in C (Studies in Musical Genesis)
Hardcover

* Individual store prices may vary.
Description
Unquestionably the founding work of minimalism in musical composition, Terry Riley's In C (1964) challenges the standards of imagination, intellect, and musical ingenuity to which "classical" music is held. Only one page of score in length, it contains neither specified instrumentation nor parts. Its fifty-three motives are compact, presented without any counterpoint or evident form. The composer gave only spare instructions and no tempo. And he assigned the work a title that's laconic in the extreme. At the same moment of its composition, Elliott Carter was working on his Concerto for Piano, a work Stravinsky was to hail as a masterpiece. Having almost completed Laborinthus II, Luciano Berio would soon start the Sinfonia. Karlheinz Stockhausen had just finished Momente. In context of these other works, and of the myriad of compositional styles and trends which preceded them, In C stands the whole idea of musical "progress" on its head. Forty years later, In C continues to receive regular performances every year by professionals, students, and amateurs, and has had numerous recordings since its 1968 LP premiere. Welcoming performers from a vast range of practices and traditions, from classical to rock to jazz to non-Western, these recordings range from the Chinese Film Orchestra of Shanghai -- on traditional Chinese instruments -- to the Hungarian 'European Music Project' group, joined by two electronica DJs manipulating the Pulse. In C rouses audiences while all the while projecting an inner serenity that suggests Cage's definition of music's purpose -- "to sober and quiet the mind, thus making it susceptible to divine influence." Setting the stage for a most intriguing journey into the world of minimalism, Robert Carl's Terry Riley's In C argues that the work holds its place in the canon because of the very challenges it presents to "classical" music. He examines In C in the context of its era, its grounding in aesthetic practices and assumptions, its process of composition, presentation, recording, and dissemination. By examining the work's significance through discussion with performers, composers, theorists, and critics, Robert Carl explores how the work's emerging performance practice has influenced our very ideas of what constitutes art music in the 21st century.

Oxford University Press, USA, 9780195325287, 160pp.
Publication Date: August 5, 2009
About the Author
Robert Carl is Professor of Composition and Theory and Chair of Composition, Department of Music, The Hartt School, University of Hartford. His music has been performed throughout the United States and Europe and has been published by American composers' Edition, Boosey & Hawkes, and Apollo-Edition. Recent CD releases of works are found on New World, Innova, Neuma, Koch International, Lotus, Centaur, and Vienna Modern Masters. He also writes regularly on new music for Fanfare Magazine.
or
Not Currently Available for Direct Purchase